Nvidia challenges Intel as PC GPU shipments boom
Record breaking Q3, says analyst
Graphics chip makers had a particularly successful third quarter, it emerged today, with shipments up on Q2 by a whopping 20.2 per cent - the highest quarter-on-quarter increase since 2002's 18.6 per cent, by a good margin.
All the major vendors shared in this unit shipments growth - Nvidia in particular - while the smaller players saw their shipments slide or, at best, remain static between Q2 and Q3, market watcher Jon Peddie Research said today.
Intel remained overall market leader, with 38 per cent of the market, but Nvidia again narrowed the gap, as it did in Q2. Nvidia products accounted for 33.9 per cent of shipments in Q3. AMD's accounted for 19.1 per cent.
Intel vs AMD vs Nvidia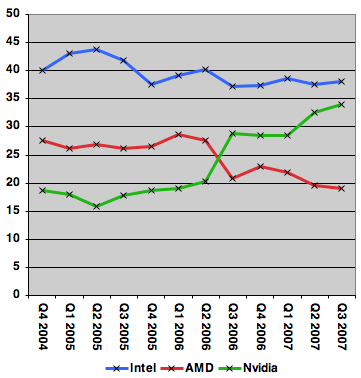 GPU shipment shares
Source: Jon Peddie Research
On the desktop, Nvidia held its first place position, claiming 37.8 per cent against Intel's 33.5 per cent. AMD had a modest loss, falling to 17.5 per cent. For once, desktop products took a greater share of shipments over a previous quarter, taking 73.6 per cent of the product mix to Q2's 68.5 per cent.
Over the past few years, mobile chips have been chipping away at desktop shipments. Until now. JPR attributed the shift to "increased demand by consumers for multimedia-rich systems, and, to a certain extent, to demands of Vista".
In the mobile market, Intel held its dominant position but slipped slightly to 50.9 per cent. AMD can take some consolation from JPR's figures: it regained the number two mobile position with a share of 23.4 per cent. Nvidia took 22.8 per cent, so it could yet push past its arch rival.
Overall, some 97.85m PC graphics parts were shipped in Q3, up 33.1 per cent from Q2's 73.53m and a record Q3 total.
Sponsored: Minds Mastering Machines - Call for papers now open