Robo Development Conference in pictures
Know thy roboenemy
Moving along — we see a robot being shown by National Instruments, a robotics software firm. This particular robot challenged me to a game of dice.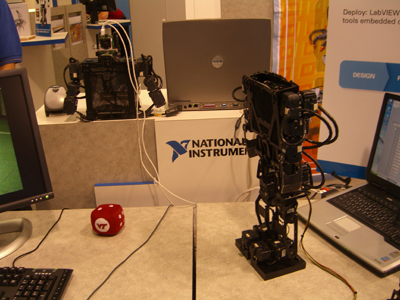 By the way,that's his head to the left and body to the right. Odd yes — but I suppose that's what can happen when you get caught up in the gambling scene. I put a fuzzy die in the robot's pincers, it gave a little toss and rolled a three. Luck may be a lady, but she's made of flesh and bone like I. She gave me a six.
The robots unattached head was able to look down at the dice and recognize that it lost. It's little body sank in disappointment. Score one for the meatbag.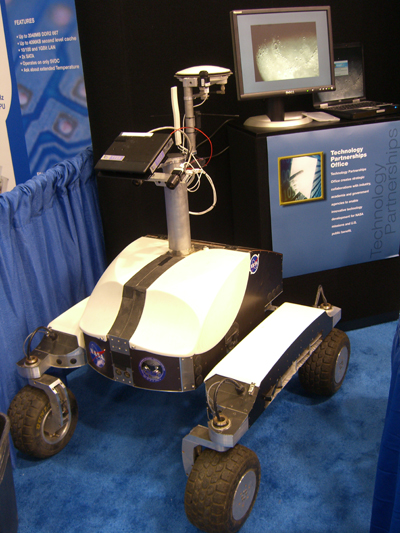 NASA had a booth. Oh, what's that? You built a remote control buggy for only three million dollars? Fantastic! Really well done!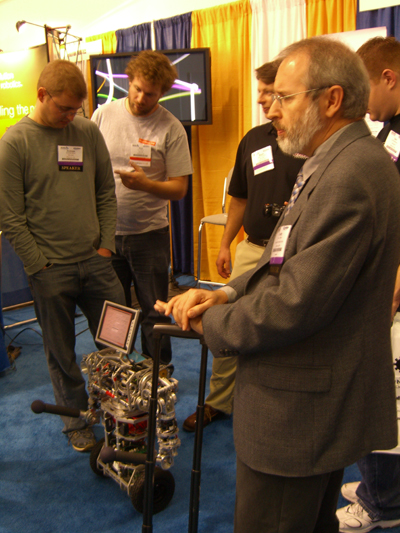 Standing at (perhaps an ill-conceived height of) Microsoft Robotics Group GM Tandy Trower's crotch is uBot.
The robot is a dynamically stable machine that balances like an inverted pendulum. It was built by students at the University of Massachusetts Amherst, and is being displayed by Microsoft because it's using their software.
Microsoft has been pushing its Robotics Studio software, which the company has been trumpeting as a much-needed standard platform for the robotics community. It seems many robo developers begrudgingly accept this view as well. But of course, being the types of people who sit in dimly-lit basements and do odd things like build robots, the community isn't prone to thrill it's Microsoft at the reins.
That's all for today. Join us tomorrow as we take another look at the Robo Development show floor. We'll also answer important questions such as: can a robot open a beer for you? And, where can I see a robot's face that will haunt my nightmares forever? ®