Abit IP35 Pro Intel P35-based motherboard
Good all-rounder?
Review The Pro is the current feature-packed flagship of Abit's P35 range of motherboards based around - surprise, surprise - Intel's P35 chipset, and supports Intel's range of 1333, 1066 and 800MHz frontside processors, including the Core 2 Extreme, the Core 2 Quad and the Core 2 Duo.
Built on a blue PCB, the IP35 Pro is very neatly laid out, with space around all the major components, which include solid-state capacitors that give more stability to the board, especially when it's being overclocked.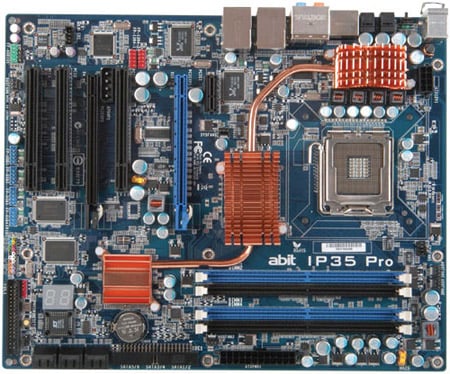 Abit's IP35 Pro: very neatly laid out
The first thing that strikes you about Abit's P35 is the passive cooling - the board uses Abit's Silent OTES heatpipe technology. Both the P35 northbridge chip and the MOSFETs are covered with large copper coolers, while the southbridge chip has a much smaller one, all three being connected by a single copper heatpipe.
Although the P35 chipset has memory controllers for both DDR and DDR 3, Abit has chosen to fit the IP35 with DDR 2, which makes sense as DDR 3 is very much in its early days and the jury's still out on any performance advantage at the present time. Four DIMM slots provide support for up to 8GB of 800 or 667MHz dual-channel DDR 2 memory.
A neat design touch sees all the edge-mounted 3Gbps SATA ports - six of them - turned to 90°, allowing even the longest graphics cards - think Nvidia's 8800 Ultra - to be fitted without any problems. As the IP35 uses the R version of the ICH9 southbridge, these SATA ports can be used to build RAID 0, 1, 5 or 10 arrays. Outward-facing eSATA is also supported thanks to a JMB363 chip, and two eSATA ports are located on the rear I/O panel.
The single ATA and floppy drive ports are edge-mounted too, as is the ATX power socket, all of which allow for neater cable runs that not only look good, but help with air flow inside the PC case.