Next-gen Treo spied on web
A picture of a device claimed to be Palm's next top-of-the-line Windows Mobile-based Treo smartphone has surfaced on the web, allegedly by way of US carrier Sprint.
The leak comes via Treo Central's forum, and is said to have been sent by a "solutions engineer at Sprint". The carrier has just "started the hardware beta of the device", but the posted also hinted the device, dubbed the Treo 800w, may make an appearance tomorrow at "a Sprint solutions show".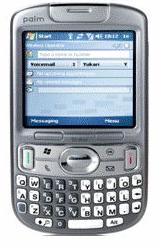 TreoCentral's Palm Treo 800w pic
Past posts have indicated the handset has Wi-Fi - long missing from Palm smartphones, though not from its PDA line-up. Windows Mobile 6 will be part of the package too, it's claimed, but that's exactly what the device would be expected to have.
The picture's rather crude, though it is said to be a mock-up rather than a real snap of the handset. It's interesting to note the Treo 500v-like control array and keyboard, along with new soft-menu keys above the control cluster.
The size of the keyboard suggests the 800w - if that is indeed what it is - is about the same size as the 500v and slightly smaller than today's Treo 750.