Dell debuts XPS desktop for video buffs
Video digitiser hardware on board
Dell's XPS line of desktop PCs isn't just for gaming, oh no. The computer giant last night launched a model aimed at video editors.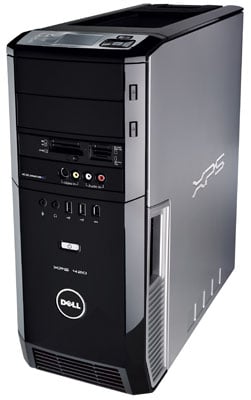 Dell's XPS 420: for video editors rather than gamers
The XPS 420 is available for configuration with a selection of Intel Core 2 Duo and Core 2 Extreme dual- and quad-core processors, all sitting on an Intel X38 chipset. The X38 can support DDR 3 memory clocked at up to 1333MHz, but Dell's offering the 420 with up to 4GB of 800MHz DDR 2.
A stack of SATA drive options are available allowing buyers to get up to 1TB of storage for their movies, and they can then burn the results on Blu-ray Disc or DVD.
Graphics comes courtesy of AMD's ATI Radeon HD 2400 Pro or 2600 XT, or Nvidia's GeForce 8800 GTS or 8800 GTX, with 128, 256, 256 and 768MB of dedicated video memory, respectively.
Gaming isn't off the agenda here: Dell said the 420 can also be equipped with an Ageia PhysX physics processing card. However, the Windows Vista-based machine's most curious feature is a Windows SideShow panel on the top of the front panel. It's a colour display that allows you to access music and movies stored on the machine without having to use the keyboard or mouse. It also has control panels for system functions like display resolution.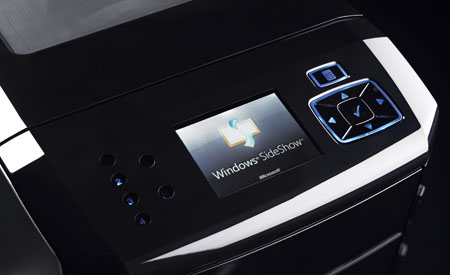 SideShow on display
More useful, perhaps, is Dell's Xcelerator option: a unit built into the front of the machine that provides s- and composite-video and stereo audio input ports and digitising hardware.
Each 420 comes with Adobe Premiere Elements 4 video editing software, along with Adobe's Photoshop Elements 6 and Soundbooth CS3 apps.
Available now, the XPS 420 is priced from £999/$1499, including a 20in monitor.