How to get colour composite-video from an Apple TV
Got a standard def 16:9 telly? Now you too can use an Apple TV
Updated I've been playing with Apple's Apple TV set-top box this week, and I have to say I like it. But Apple's missing a trick by not allowing those of us - me included - without HD TVs to make the most of the device. No matter: a simple hardware trick solves the problem.
I've found Apple TV to be a great way of getting content not simply from a computer onto a TV, but for taking the computer (almost) out of the equation. My approach isn't for everyone - plenty of Register Hardware readers have way more downloaded music and video content, in a broader array of formats than I have, but I like to keep things simple.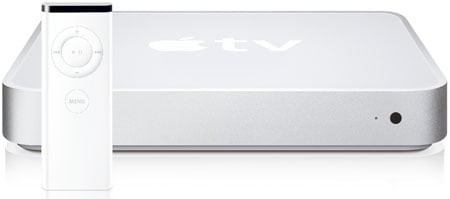 Apple's Apple TV: complete with remote - but no cables
I currently have around 25GB of music on my MacBook Pro, along with 2GB of photos. I've got some H.264 video, in standard definition, maybe 5GB or so, largely ye olde 1970s TV shows I've digitised off VHS tapes that were never re-released on DVD. I used to have a lot more music until I realised I was largely keeping it because I couldn't bring myself to delete any of it, hoarding for hoarding's sake, even though so much of it hasn't been listened to for years, even when it was my CD collection.
One major spring cleaning later, and I've a pared down library of stuff I like to listen to regularly and some material I listen to once in a blue moon but don't want to erase just yet.
I keep most of this on my laptop, most so I can transfer it to my first-generation iPod Nano. But Apple TV has allowed me to copy it all over to the small box's 40GB hard drive and select songs using the on-screen UI. Now I can listen to any track I own in my living room, not just on the move.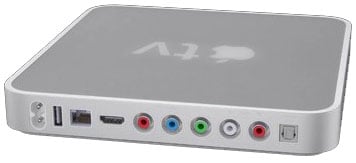 Apple's Apple TV: HDTV-friendly ports... and SD too?
Up until now, I'd been using a Logitech Squeezebox III, acquired long before developer Slim Devices was bought by the mouse maker, connected over the network to a Samsung Q1 UMPC. Why use a UMPC as a media server? Two reasons: first, it's small and, second, what the heck else was I going to use the machine for? The battery life's not good enough for full-day mobility, and the screen's too cramped for a decent web browsing experience.