Symbian CEO finds his 'inner caveman'
Ugg! It's Andrew's round-up
Smartphone Show The 1990s mania for Flintstones anthropology has been on the wane for some time. It was freighted with too many dodgy agendas, and people twigged fairly quickly that you can simply make up any "evolutionary psychology" you wanted. Studies such as the one that suggested rape provided evolutionary advantages didn't exactly help the cause. Stephen Jay Gould called it "Just So Stories", and EP turned out not to be an exciting new branch of science, or even social science, but gothic fiction - to be filed under "Creative Writing".
However, Symbian's CEO Nigel Clifford gave the cause an improbable lift yesterday. He used his keynote address to tell us we were really all just cavemen.
Really?
Yes, we're cavemen, said Clifford, only cavemen who want to take our environment with us. "Connected cavemen", in fact.
"Twenty thousand years ago, life was simple," he reckoned.
He described how he'd found himself in Budapest, but felt the inner Neanderthal inside him call out - he wanted to watch the Rugby World Cup.
So he cranked up the Sling Player on his smartphone, and tuned into the game.
Now for a British executive in Budapest, watching 80 minutes of streaming video results in a fairly hefty roaming data bill. The reason he was able to indulge in this had nothing to do with the Stone Age, and everything to do with that very modern invention: the Expense Account.
So his misguided speech didn't persuade us of the primacy of the cave so much as the virtues of modern life. An attendee who'd heard Clifford describe how the CEO and his wife had whiled away a taxi trip to the airport by fiddling with their phones, told us:
"I felt like bursting into tears. It was a Houellebecq novel: life as completely atomized." What makes executives say such dumb things? Answers on a postcard, please.
---
Although it dominates the Symbian smartphone, Nokia keeps a very low profile. It isn't one of the sponsors. That's not surprising, as Symbian wants to demonstrate the plurality and diversity of its "eco-system" (dodgy Darwinian metaphors are everywhere), and having the 800lb gorilla in the room doesn't help.
But oddly, Nokia held a party to coincide with Symbian's lavish do in the evening - and succeeded in siphoning off the blogging representatives.
This gives credence to the idea that Nokia is embracing the "blogosphere" not because it wants to "create a buzz", but because it needs to be told what it wants to hear.
---
Sony Ericsson's director of content acquisition is called Mikael Nerde - no puns, please. Mikael resisted gloating to us yesterday about Nokia's portal difficulties.
Nokia wants to cut into the operators' business by doing a portal of its own, Ovi, bypassing them completely. In response the UK operators have succeeded in garotting Nokia's big Xmas phone, the N81, by way of a warning shot.
Nerde told us SEMC was investing in generating portal-type demand, traffic - such as the PlayNow service that identifies what song is being played - but is happy to share this with operators.
"Rather than saying 'we will own all of it', we have to strike a balance," is how he put it, diplomatically.
But at the company's party the previous evening, SEMC staff were grinning from ear to ear, we hear.
With the N81 gone, that's Nokia's main challenger to Sony Ericsson's prized Walkman range snuffed out.
---
According to Motorola's Ron Schaeffer, there are four births every second but 32 mobile phones sold every second.
No wonder that in contrast to the robust and almost indestructible GSM hardware of ten years ago, the modern phone is prone to crap out within weeks. It has to.
---
Nokia "buzz" strategy involves giving bloggers - or in fact anyone who asks - a Nokia mobile phone if they promise to talk about it in public. We heard that there are 10,000 of these human billboards about - an astonishing figure, if true.
The joke doing the rounds at the Smartphone Show is that bloggers can expect as many N81s as they ask for this Christmas, given that UK operators won't touch it.
That sure beats burying this fine phone in a landfill site.
---
Samsung had a serious presence for the first time this year, launching three excellent new devices. All three are blazingly fast. But then Samsung develops its own silicon for Symbian, which is apparently three times as fast at context switches than the TI hardware.
---
Nokia's Touch UI had developers despairing. It's only single touch, rather than multi-touch like Apple's iPhone and iPod Touch - and doesn't represent much of an advance over the company's N800 Tablet - which does finger navigation really quite well.
Nokia's input APIs don't offer much to developers, who are eyeing a rejuvenated UIQ with much more interest, two developers told us. UIQ offers a single binary, whether the application is "soft key" (like the Z8), "touch screen" or both.
---
Spotted on a lapel: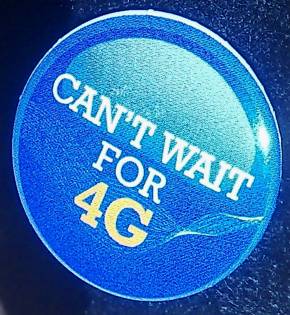 Who says sarcasm is the lowest form of wit? ®
Sponsored: Becoming a Pragmatic Security Leader