Rock Xtreme X770-T7800 notebook
Could it be a contender?
Review Rock has a reputation for punching out high-performance laptops, and it's latest line, the flagship 17in desktop-replacment X770 series, has a spec that suggests it's no slouch either.
The line's leader, the X770-T7800, has at its heart an Intel Core 2 Duo T7800. Currently the fastest mobile Core 2 Duo processor, the T7800 is clocked at 2.60GHz and comes with an 800MHz frontside bus (FSB) speed and 4MB of L2 cache.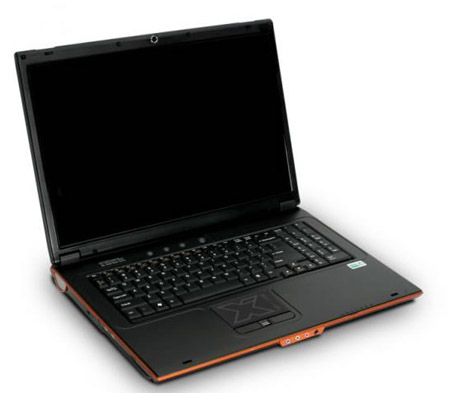 Rock's Xtreme X7770: top-of-the-line Core 2 Duo inside
Backing up the CPU is 2GB of PC2-5300 DDR 2 memory clocked at 667MHz, but if your pockets are deep enough you can order your X770 with the maximum memory it can support: 4GB. Remember, though, you'll need a 64-bit operating system to access the full 4GB - the standard 32-bit version of Windows Vista or XP will only be able to access 3GB. Even better would be taking the option of 2GB of 800MHz, PC2-6400 memory which would then match the processor's FSB speed.
Performance-wise, the X770-T7800 doesn't hang about, scoring a very decent 5.0 with Vista's Windows Experience Index. This tests various components - CPU, memory, graphics, gaming graphics and hard drive - and gives an overall score based on the lowest scoring component which, in the case of the review X770, was the memory. No real surprise there as the memory is running slower than the CPU, but in all honesty you probably won't notice it much.
Just for the record the rest of the scores were: CPU 5.4, graphics 5.9, gaming graphics 5.5 and hard drive 5.2. If you don't trust the Experience Index then the PCMark05 overall score of 6500 should show how fast this notebook is - it can outpace many a desktop system.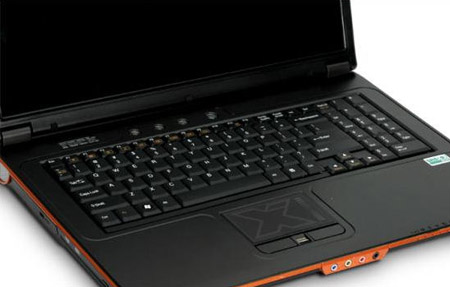 A touchpad fit for mutant superheros?
The X770 is a stylish, well-built notebook. The black chassis - made by Clevo, a M57RU model - is highlighted by a narrow orange trim strip, although silver is available for those not so daring. The keyboard and trackpad/mouse buttons are surrounded by a panel finished off to look like carbon fibre.
Sponsored: Detecting cyber attacks as a small to medium business