Intel demos notebook chiller
Company dips toe into laptop cooling
Intel has revealed details of technologies it's developing to help reduce notebooks' internal temperatures and make them resistant to accidental spillages.
Intel Mobility Group VP Mooly Eden demo'd the new techniques at Intel Developer Forum in Taipei today. He showed off a notebook stand-cum-docking station co-developed with micro-compressor maker Embraco - the unit contains three cylindrical compressors, each 2cm in diameter and 10cm long, to drive the coolant around the unit, pulling heat away from the laptop.
The system works much the same way a domestic fridge does. The result: the ability to reduce the laptop's temperature by 10°C.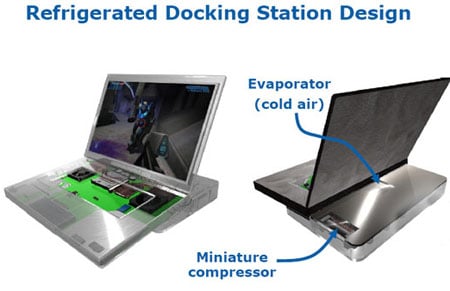 Intel and Embraco showed just such a system at the San Francisco IDF back in September. However, this time round, Eden also showed a version of the technology designed to be built into a notebook's casing.
He also discussed an air-permeable material Intel is developing that could be placed under a laptop's keyboard, allowing much more air to be drawn into the machine - a process that's becoming more difficult as laptops get thinner - but at the same time is impervious to liquids spilled on the keyboard.
The laptop stand may go on sale before the end of the year, but the built-in refrigeration system and the spill-proof material aren't likely to appear in notebooks until late 2008.