Fairly realistic flying car offered for 2009 delivery
It's a car. It can fly. That's it.
These tough tech hurdles have meant that the NASA PAV doesn't exist, and probably won't in the foreseeable future. But that doesn't necessarily mean that more basic roadable aeroplanes can't be built.
One such notion is the Terrafugia Transition®, reported on today by the MIT Tech Review. Terrafugia Inc is a startup founded by a group of MIT engineers and flying enthusiasts in 2006. It completed an initial funding round in December.
The Transition isn't a PAV; it's a normal light aircraft which can fold its wings at the touch of a button and become a car, and which runs on unleaded. That's pretty much it. The only extra touch is that a Transition® is intended to qualify as an FAA "Light-Sport Aircraft", which means a somewhat less onerous regulatory regime. A "Sport pilot" licence is easier and cheaper to get than an ordinary private pilot's licence, requiring only 20 hours logged; and there are breaks on maintenance, medical checks etc. An existing pilot's licence is also fine.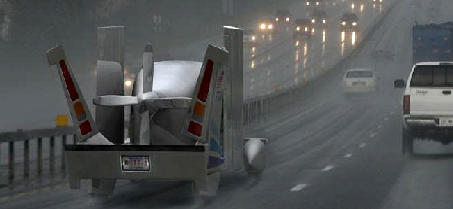 The Transition® in bad-weather mode. Credit: Benjamin Schweighart.
The Terrafugia people reckon that the advent of the Light-Sport category, combined with recent advances in materials and aero engines, mean that an airworthy and road-legal plane can now be built affordably. They say the market for it is there, with 600,000 licenced pilots who could already fly the Transition® in the States.
"The Transition® is for pilots," says the company.
"It is not intended for use by short-distance commuters, by people running errands, or for any trip through city traffic or under 100 miles. Instead... if you travel between 100 and 500 miles at a stretch, particularly if your trip is either starting or ending in a more suburban or rural area, then the Transition® is for you. If you don't already have a pilot's license, you will need to get one... The Transition® is for pilots, businesspeople [and] weekend travelers..."
Most of the target market pilots don't have instrument qualifications allowing them to operate in bad weather. This means that they often fly somewhere, then get trapped on the ground by poor conditions. They also find the hassle of getting to and from airstrips a problem, according to Terrafugia; not to mention the faff attendant on aviation fuelling, tiedown places and so forth.
None of that applies to the Transition. You drive it to the airport from home, filling up at an ordinary petrol station. You fly wherever you're going. Once there, you aren't bothered about a place to tie down, or about a ride onward to the ultimate destination. You simply fold wings and drive away. If the weather closes in before your return flight, no hassle about hire cars or getting the plane back home again - just drive back home on the ground. It'll take a bit longer, but you'll get there. Likewise, if your flight runs into bad weather and you can't carry on, divert to an open airfield and drive from there.
All in all, this sounds a lot more realistic than a ducted-fan flying saucer from the endlessly written-up Dr Paul Moller (who was busted by the SEC in 2003 for flogging fraudulent "Skycar" stock on the internet and other financial misdeeds). It also sounds a lot more feasible than a silent, super-efficient short-takeoff NASA PAV with accompanying automatic air-traffic miracles.