Samsung specs up updated UMPC phone
Big handset or small PC?
Samsung has unfolded the specs of its second-generation fold-open UMPC-like phone - or should that be 'phone-like UMPC'?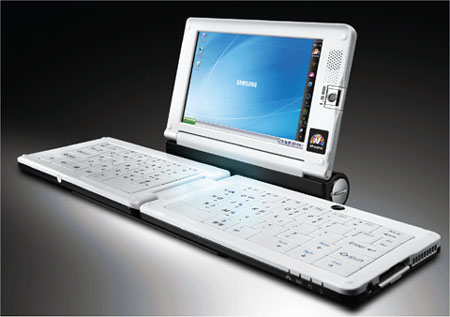 Samsung's SPH-P9200: phone and a PC all in one
Like the earlier SPH-P9000, the as yet unlaunched SPH-P9200 has a 1GHz CPU, but its memory has been upped from 256MB to 512MB. The Windows XP-based model still ships with a 30GB hard drive.
The P9200 is well connected. A SIM card slot allows users to tune in to GSM/GPRS/Edge and 3G HSDPA cellular networks, and the machine features WiBro, Korea's answer to Mobile WiMax. Wi-Fi connectivity - most likely 802.11g - is built in too, but there's no mention of Bluetooth in the new model's specs, even though it featured on the P9000.
However, since portability's still the main aim, it's no surprise to see that Samsung's retained the previous model's 5in WVGA display and split Qwerty keyboard design on the P9200, making it look as though it's suffered badly at the hands of a Judo master.
Samsung's also put more thought into the SPH-P9200's appearance, rounding off edges and opting for a consumer-friendly iPod white colour scheme, instead of the P9000's silver surfaces.

Samsung's SPH-P9200: folds to a handy size
No video? You'll need to download Adobe's Flash Player
The screen's principally operated by a stylus, although a mouse could be connected through one of the machine's multiple USB ports for use on a desktop. Samsung hasn't upped the built-in camera's capability, leaving it at 1.3 megapixels, but at least you'll still be able to use it as a half-decent camera phone.
Users will get around 2.5 hours of life with the standard battery, although a chunkier extended battery gives up to five hours' life. The machine weighs 650g.
Samsung hasn't yet confirmed when the SPH-P9200 will make it onto the market, but in time for a Korean Christmas could be a good guess.