Currency launched to cover the cosmos
In space, everyone can hear you spend
Scientists have come up with a new currency to be used by inter-planetary travellers. The Quasi Universal Intergalactic Denomination, or Quid, is made from a polymer used in non-stick pans and is designed to withstand the stresses of space travel.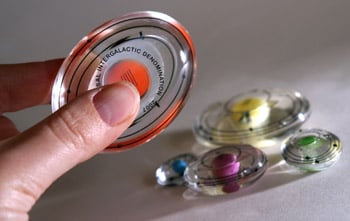 The Quasi Universal Intergalactic Denomination, or Quid.
Bearing a striking resemblance to the Drogna - the currency used in The Adventure Game - the Quid has no chemicals or sharp edges that could pose a potential problem to space goers should the "coins" accidentally float free in zero gravity.
It was designed for foreign exchange company Travelex by scientists from the National Space Centre and the University of Leicester. They predict that regular trips into space will be considerably more commonplace within the next five years and that holiday facilities on the Moon are a possibility within the next 50 years.
The issue of currency has long featured in science fiction, from the all-encompassing "credit" to the Altarian Dollar, the Triganic Pu, or even where money doesn't exist at all as is the case in Star Trek.
Professor George Fraser from the University of Leicester told BBC News: "With an inflatable space hotel from Bigelow Aerospace under development in the US, and Virgin Galactic developing SpaceShipTwo, there will be better access to space than there has been.
"In the fullness of time we will have to adopt a universal currency if we are going to carry out serious commerce in space. It's an interesting initiative."
The current rate of exchange is £6.25 to the Quid. ®