Japanese in exoskeleton ancestor-respect scheme
Motorised wrinkly porta-parent plan
Most people who follow robotics and exoskeletonry are aware of the superannuated surge projected for the Japanese population in coming decades, and the governmental plan to mostly have robots look after the burgeoning blue-rinsed hordes.
This will free up the relatively few folks of working age left in the land of the Rising Sun to work very hard so as to pay all the bills.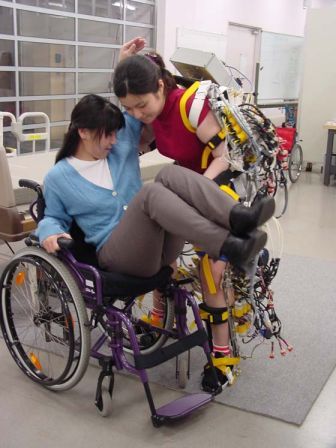 Come on, let's get you out of that
cumbersome unwieldy machinery.
However, of late some reports have suggested that testy Japanese oldsters aren't taking kindly to having droid minders (albeit in that case the fluffy moron-bots in question were sufficiently useless and irritating they would have annoyed anyone).
Furthermore, it appears that in many cases there may be a double-layered problem, in which the very elderly (90+) may have to be cared for by their offspring (only 70 or so).
This has in its turn suggested a new use for the well known Nipponese powered exoskeleton suit technology, already touted as a nifty alternative to the traditional Zimmer frame.
AFP scribe Kimiko de Freytas-Tamura asks today: "As Japan greys, who will look after the elderly? Maybe one day their aging children - in robot suits..."
It seems that the Kanagawa Institute of Technology showed off their astounding, pneumatic "Wearable Power Assist Suit" last week at a trade fair, along with other motorised-geriatric manufacturers.
"Of course 80-year-olds won't be able to wear this," the Institute's Hiroi Tsukui told AFP.
"But perhaps for their children who are in their 50s and need to take care of their parents, this could prove to be useful," she added, as - according to AFP - she casually threw a young man down on a table.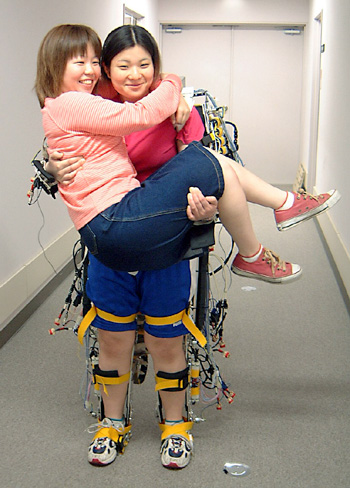 Robot women don't need men or bicycles.
"Japan, which has one of the world's lowest birth rates and yet forbids immigration, is increasingly turning to robots," says de Freytas-Tamura, hinting that the only choice of idle, hedonistic childless first-worlders is whom to be culturally colonised by; surly young immigrants - angered, perhaps, by a recent humbling for their home colonies on the rugby pitch - or a sinister machine army.
Getting back to today's Japan, the powered suit apparently takes 10 minutes to put on, weighs 30kg, and "has blinking lights and wires reminiscent of a robot in a sci-fi movie," according to AFP.
"But it allows the wearer to lift a person as heavy as 100 kilos as if they were carrying only half that weight."
Just how many 50-year-olds can hoist 50-kilo weights while wearing a 30-kg exoskeleton remains to be seen. And it has to be said, the gear doesn't look safe for plucking people out of baths, nor for grappling with murderous acid-blooded alien monsters. But it would appear that the technology is quite literally marching on.
The AFP report is here. ®
Sponsored: Detecting cyber attacks as a small to medium business