Apple to dial x86 for iPhone?
Claimed shift to Intel could explain downer on third-party apps
Suddenly, Apple's apparent downer on third-party iPhone software development becomes much clearer. Taiwanese moles claim the company is considering founding future iPhones on the next generation of Intel's Ultra Mobile Platform.
Today's iPhones are based on ARM processor technology. Intel abandoned its ARM chip line in practice last year, but focused its efforts on its own x86 processor platform in spirit back in 2005. Since the two are incompatible, moving to x86-based iPhones would by necessity render all existing iPhone apps unusable on the new platform.
Now, Apple has managed such transitions in the past, on the Mac. First, it moved from Motorola's 680x0 family of CPUs to the PowerPC platform. More recently, it migrated from PowerPC to x86. In both cases, Apple did a good job, but the size of its userbase made putting big resources behing the migration essential.
Apple could do the same thing with the iPhone, but since the handset is a new platform and Apple is in a position to minimise the development of the kind of apps that would require it to subsequently invest big dollars in transitioning to a new iPhone platform, that could well be exactly what it's done.
The only iPhone application development Apple has encouraged are applets that run within the Safari browser, and these would be relatively easy to move to a new processor platform. All the others will require re-compiling from ARM to x86, and even then Apple can't guarantee that users will upgrade to new versions - or even that the original coders will do the re-compile.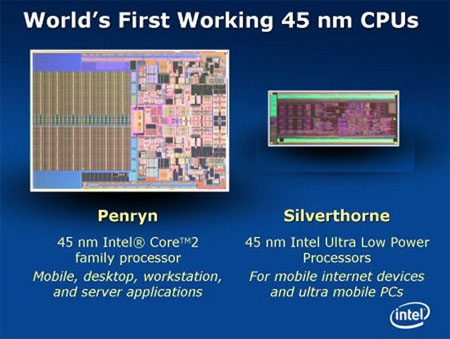 Intel's Silverthorne: small die
That leaves Apple's support teams fielding calls from iPhone users - many of whom have priority service packages, part of the lure to get them to fork out up to $699 for original 8GB iPhone - who complain their handsets crash when they run application X.
To avoid that, Apple has to incorporate ARM emulation technology in the iPhone so that such apps will run - and even then it's not a certainty.
But cut off third-party native application development and you can head off all these problems at once.
There's the logic - is it likely? That depends on the veracity of the claim Apple is pondering a move to Intel technology. It's said the shift would take place with 'Moorestown', the follow-up to next year's version of UMP, aka 'Menlow'. Moorestown is due to become available in the 2009/2010 timescale, according to Intel, so if Apple does shift to Intel, it'll almost certainly happen with the third generation of iPhone.
To make the move sooner, Apple would have to go with Menlow, due in Q1 2008 and which combines Intel's 45nm 'Silverthorne' processor and the 'Paulsbo' chipset with on-board graphics. But Menlow's perhaps aimed more at small web tablets than phones, so Apple might well want to wait for Moorestown, which puts processor and chipset into a single chip, and its forecast big reduction in power consumption: 20 per cent of what Menlow uses.