Console peripherals promise Porsche-style driving experience
911 parts going cheap
If you can't afford a Porsche, then the 911 steering wheel gaming kit will at least get you slightly closer to one. Peripherals manufacturer Fanatec claims the set gives PS3 and PC gamers the "genuine Porsche feeling", but with an obvious cost saving.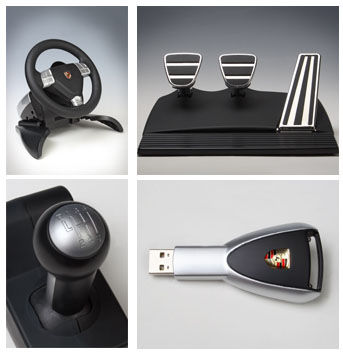 Fanatec's Porsche 911 Turbo S
The Porsche 911 Turbo S sells as a kit and includes a steering wheel, foot pedals, two gearsticks - a six gear H-pattern layout model and a sequential version - and a USB wireless adaptor. The hand-stitched leather wheel has Porsche's logo on the front and connects to your PC or PS3 via the wireless adaptor, which is also emblazoned with the same badge. The wheel must be connected to a mains supply for power and Fanatec said the kit ships with software, presumably for PC use, that enables the wheel's in-game turning angle to be adjusted.
Force feedback is built into both the wheel and the pedals, which sounds similar to the DualShock 3 controller mechanism. For example, the clutch provides resistance feedback and the brake is pressure sensitive, although never having driven a Porsche means we don't know if this mimics the real thing accurately. The pedals are battery powered and also connect to your PS3 or PC via the adaptor.
A selection of table clamps and straps ship with them too, enabling users to fit either model to a PC desktop or onto their laps for PS3 use.
Many similar kits are already available for both the PS3 and the PC, but this is the first we've seen that tempts gamers with hand-stitched leather and a Porsche endorsement, but that's ultimately what you pay for. The Porsche 911 Turbo S kit is available now and retails for around €300 (£180/$380).
Sponsored: Minds Mastering Machines - Call for papers now open