NASA mulls strap-on astronaut carrier
Lunar convoy under consideration
NASA has come up with several concept vehicles for its planned future exploration of the Moon. Wannabe lunar wanderers should beware: Travelling across the hills and plains of our largest satellite will not be a dignified experience...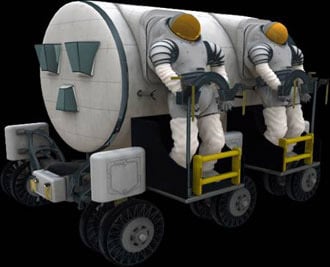 Concept vehicles, per NASA, for future manned exploration
of the Moon.
The spacesuits have been made integral to the rover's main body. This has the advantage of allowing the astronauts free movement within the vehicle, but it does make the rover look a little like a bizarre prison transporter, with handcuffed astro-cons strapped to the exterior.
We're not criticising, just making an observation.
The rover would obviously be pressurised, and would have a range of roughly 125 miles. NASA says they would most likely travel in pairs, with two spacemen in each rover. This way, if one rover had any technical difficulties, the other could give the stranded explorers a ride home.
NASA is still seeking design ideas for next generation spacesuits. The suits would have to allow a much greater range of movement than those used by orbiting astronauts, and would have to mass considerably less, if they are to be useful for exploring and doing science on the moon. NASA says it wants a contractor signed up by 2008.
The Lunar Architecture team has also been putting together a pencil sketch mission plan. NASA has been thinking about sending small packages ahead of time that the landing mission could assemble. However, the team suggests this would be more difficult to handle, and take longer to get up and running than if NASA sent larger modules.
The team is also mulling over a possible portable habitat module that could be relocated according to the needs of the mission.
NASA wants to have people back on the moon by 2020. It plans to set up a base, probably at Shackleton crater, near the southern pole. Plans will be finalised by 2012, the agency says. ®