Sony Ericsson, Vodafone to offer Havanas for Xmas
One new phone and two re-sprays
Sony Ericsson has become all chummy with Vodafone. It's created a Havana range exclusively for the network provider, which includes the launch of its new V640i phone and re-sprays of the Walkman W880i and W910i handsets.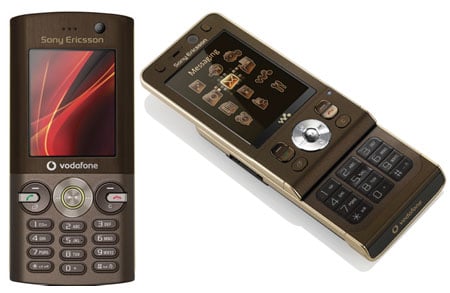 Sony Ericsson/Vodafone's Havana V640i (left) and Havana W910i Walkman
In addition to HSDPA 3G, the V640i also connects over tri-band GSM/GPRS/Edge frequencies and has a video talk time of up to 2.6 hours. Its 2in, 176 x 220, 262,144-color display won't wow you during video calls, but should make a decent viewfinder for the phone's two-megapixel camera. Other networks will be able to sell the 640i in black, but only Vodafone will be able to offer it with the Havana Gold tan.
Bluetooth 2.0 with A2DP wireless music streaming technology is on board, but with regular earphones, the V640i provides over 21 hours of listening time, so your existing MP3 player could be under threat. The phone is also bundled with software for transferring music, photos and videos from your PC or back again.
It supports Memory Stick Micro - aka M2 - cards of up to 4GB for song storage. There's a 256MB card in the box; the phone as 32MB of built in memory.
There's nothing new about the W880i or W910i Walkman handsets beyond Vodafone's two Havana colour options. The W910i was unveiled some time ago, but aside from the advantage of 3G, it offers much the same features as the W880i. For example, both have two-megapixel cameras, Bluetooth 2.0 and Memory Stick Micro cards.
Sony Ericson has also re-sprayed its MPS-70 portable speakers for the Vodafone Havana range. Each 5.5 x 3.2 x 4.2cm cube is compatible with most A2DP-enbaled phones.
The three Havana range handsets and matching speakers will be available before Christmas, but a price is yet to be confirmed by Vodafone.
Sponsored: Minds Mastering Machines - Call for papers now open