Code dandy Transitive adds laptop, legacy Solaris/SPARC plays
Helping the damned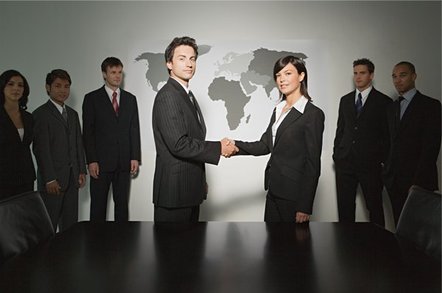 Software shifting specialist Transitive continues to better define its magical play. In recent weeks, the company has reworked its product portfolio to go after Legacy, Sever and Workstation segments, while also strengthening ties with blade server maker Egenera and AMD.
These days, Transitive leads with its Quick Transit Server product, which brings applications written for Solaris/SPARC systems over to Linux on x86 gear. Transitive is best known for doing similar work pushing PowerPC software onto x86 chips for Apple via the Rosetta project and for helping IBM shove Linux on x86 applications over to Power without modification. Transitive, however, sees the Solaris/SPARC crowd as its ripest long-term target and pushes the Quick Transit Server code pretty hard.
In addition, the company now wants you to pay attention to its Workstation and Legacy versions of Quick Transit.
The Workstation code is mostly just rebadged and repriced software that again places aging Solaris/SPARC code on fresh hardware - in this case x86 laptops and workstations. Customers such as Cisco have run into problems where workers must fight over access to a server-side Solaris application.
"Cisco bought a large number of licenses for our product and started putting those applications on laptops," said Transitive VP Ian Robinson. "Suddenly, they saw a whole lot more productivity because people didn't have to line up for time to use the server software."
The Workstation software runs $875 for a single-socket system versus $1,750 per socket for the Server product.
On the Legacy product front, Transitive offers a package for running ancient 2.5.1 and 2.6 versions of Solaris on newer hardware. This gives customers the option of keeping some niggling but needed software around without having to manage a decaying box. Quick Transit Legacy starts at close to $5,000.
You can find the three product groups broken down here, although Transitive's web site is a bit of a work in progress. (The company only sells Workstation direct via the web site.)
Futures
Next month, Transitive will move a Solaris/SPARC to Solaris/x86 product into beta and then ship three versions of that software in production form by the end of the year. In addition, Transitive will ship Server and Legacy versions of its Solaris/SPARC to Linux/Itanium product "within the next month". That's mostly meant for the HP set.
The Itanium package seems to be arriving rather late since Transitive once promised it in July.
Transitive has quite close ties with the likes of HP, Sun, Intel, SGI, Apple and IBM and now considers Egenera and AMD good friends too. It announced partner programs with both vendors in the last couple of weeks that could lead to deeper engineering work.
If all goes really great, Intel, AMD and other chip makers might build hardware hooks for Transitive's translation software into future versions of their products to improve performance, according to Robinson. Intel and AMD have already done similar things for virtualization software makers.
"In another generation or two, there are definitely things that can be done in the silicon to make our product work more efficiently," Robinson said. ®