US retailer Target lines up pink iPod Shuffle for charity
October is Breast Cancer Awareness Month
US retail chain Target has begun offering an exclusive pink iPod Shuffle, part of its programme to support breast cancer charities.
Target has, for the past few years at least, supported Breast Cancer Awareness month, which runs throughout October in the States. Usually, it announces what it's planning for the charity event right at the end of September, but special pink Shuffle packs, which come bundled with a $15 iTunues Music Store voucher have started appearing in stores, AppleInsider reports: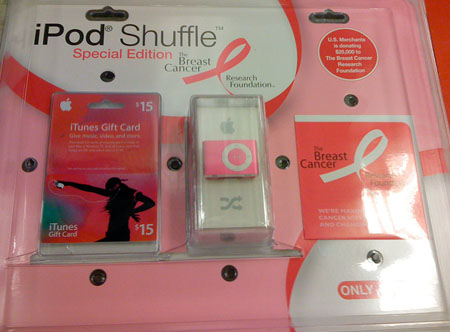 Target's pin iPod Shuffle: in US stores now?
The pack costs $79, the same price that Apple charges for a standalone Shuffle. Pink is no longer one of the player's official colours, though last year Apple did offer a metallic-pink model. Interestingly, Target's website still lists this version for sale, and it's tempting to see the new "special edition" version as a way for the store to dispose of those old models.
Still, who cares when it's in a good cause. Target will donate up to $25,000 to the Breast Cancer Research Foundation on the back of sales of the special edition Shuffle.