Gateway launches iMac-alike all-in-one PC
World's cleverest AC adaptor too?
Gateway has unveiled its latest all-in-one desktop PC, dubbed simply the One. Sitting somewhere between an Apple iMac and Sony's Vaio LT series in terms of looks, the slimline 19in machine also sports a unique power-brick-cum-port-replicator.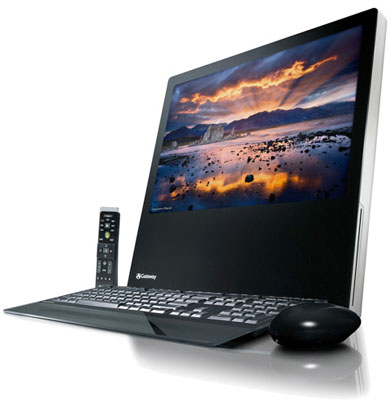 Gateway's One: watch out, iMac
The low-end and mid-range models both have a 1.5GHz Core 2 Duo and sport 2GB of memory. Gateway's most basic One will have a 320GB hard drive and incorporates an Intel X3100 graphics engine, while the mid-range model has a 400GB hard drive and an AMD ATI Mobility Radeon HD 2600 XT graphics chip with 256MB of video RAM. Gateway's top-end One runs at 2GHz, has 3GB of memory, incorporates a 500GB capacity hard drive. It too has Mobility Radeon HD 2600 graphics.
All three have room to add a second HDD for up to 2TB of storage capacity, Gateway said.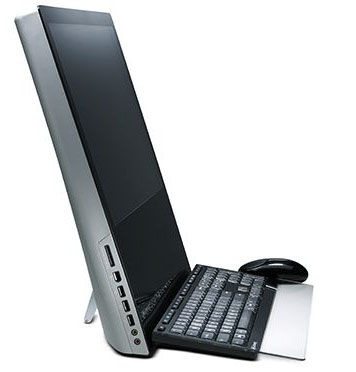 Gateway's One: slimline profile
As standard, a slot-loading 8x DVD drive is built into the machine's right-hand side, so you'll be able to burn your own content, but there's no option to upgrade to a Blu-ray or HD-DVD burner. A wireless mouse and keyboard are supplied and, so you don't have to worry about tangled cables either, the speakers are integrated into the PC.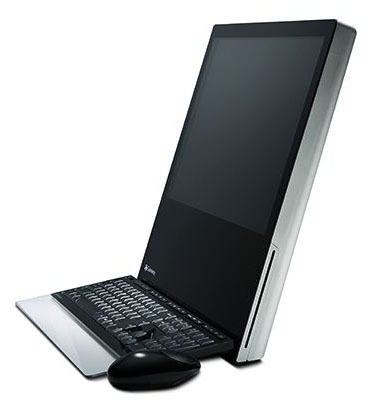 Gateway's One: slot-loading DVD drive
The One's AC adaptor doubles up as a port replicator. It incorporates four USB ports, an Ethernet adaptor and both RCA and optical digital audio connectors. Gateway's pitch is that this allows users to hook up all the devices they're going to want to keep connected to the One, and have all the wires kept neatly off the desktop.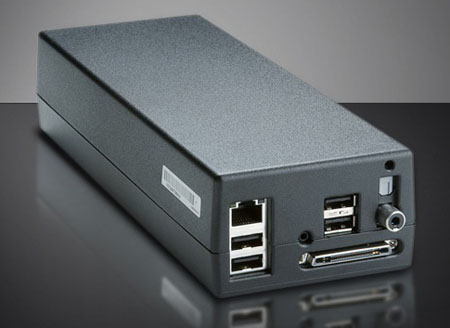 Gateway's One AC adaptor: power brick or port replicator
There's a 1.3-megapixel camera built above the display, and all models provide 802.11a/b/g/n Wi-Fi. Three USB ports, one Firewire port and one Ethernet port are built into the PC's main unit. A remote control is also thrown in for, well, remote operation.
The top-end model will retail for around $1800 (£950/€1315), the middle model for $1500 (£750/€1070) and the low-end model for $1300 (£650/€930). The One is available now in the US, but a UK release has yet to be announced.
The company has already taken several swipes at the all-in-one PC market. In March 2006 it updated its Profile 6 all-in-one PC, an altogether chunkier model aimed at businesses and schools.