Motorola MotoRokr S9 Bluetooth headphones
Wireless headphones without the baggage
The controls are on the ears, with three buttons on each side. On the right there's Previous, Next and Pause; on the left you'll find the volume controls and a button for making or answering phone calls. Stereo sound is carried over the Advanced Audio Distribution Profile (A2DP), and if your player supports AVRCP (Audio Video Remote Control Profile) then you'll be able to control playback too. We had no problems connecting and controlling a variety of devices supporting both profiles - the only challenge being to remember what each button does.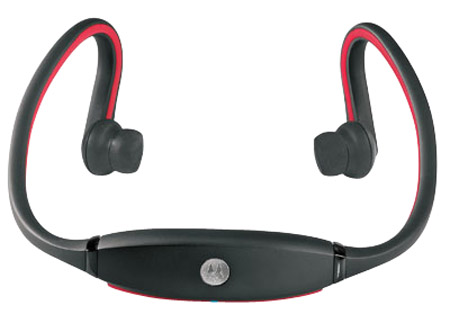 Motorola's S9: comfortable? Depends on the shape of your head
The bulge also houses the obligatory blue flashing light that such devices always seem to sport, though all the longhairs should be able to conceal it.
Sound quality was good, though as the volume increases the bass drops away until the S9 starts to sound like a cheap set of in-ear buds, but that's only at very high volume. In general, they were comparable to a normal set of earbuds, but nothing spectacular.
The range of the headphones was impressive, though somewhat dependent on the transmitting device. We had no problems listening to music from an adjoining room, and certainly anywhere in the same room, despite considerable 2.4GHz activity in the area.
We had intermittent sound problems until we established that putting more than one body part between transmitter and receiver completely breaks the connection - wrap a hand round your mobile phone and the signal breaks up badly. The same effect can be achieved by placing a hand over the bulge in the headphones. This was more acute than we've seen before on any Bluetooth device, but should rarely be a problem in normal usage.
The headphones do have a microphone hidden somewhere on them, and can be used with the normal headset profile for answering and making phone calls. The sound switches to mono, and comes only from the left ear piece, while the microphone picks up a rather blurred version of your voice. Adequate for taking an unexpected call while travelling, but not up to replacing a decent headset.
Verdict
If your hair goes down to your collar, and your head is more round than long, then Motorola's S9 is what Bluetooth promised to deliver: stereo audio wirelessly. You'll get better sound out of a decent pair of buds, but they won't look so good or let you wander around freely without wires to hold you back.

Motorola MotoRokr S9 Bluetooth headphones
If only our heads were more suited to the S9's shape, we'd say the future had arrived...