Toshiba readies Cell-based graphics engine
Watch out, Nvidia, here comes... er... SpursEngine
Toshiba will next week formally announce a processor based on the Cell chip that sits inside each Sony PlayStation 3 games console. The new CPU will be pitched not only at consumer electronics kit but set head-to-head with today's PC and Mac graphics chips.
To be fair to Nvidia, AMD and co., Toshiba's October announcement only covers a prototype of the bizarrely named SpursEngine processor - no, it's not going to be fabbed in Tottenham - as the company has yet to finalise the products specifications.
What it'll be showing off on 2 October at Japan's CEATEC exhibition is a version of SpursEngine that contains four of the Synergistic Processing Element (SPE) cores that, along with a PowerPC-based general-purpose processing core, make up the PS3's CPU.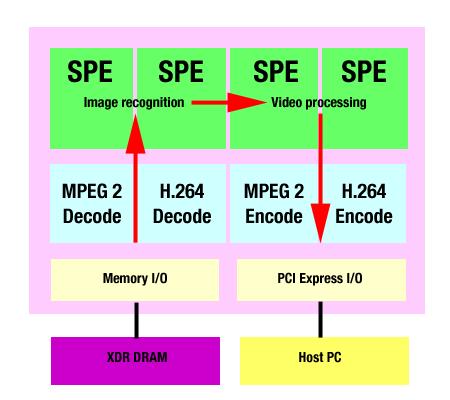 Toshiba's SpursEngine: own goal or champion GPU?
Alongside those four SPEs sit dedicated H.264 and MPEG 3 decode and encode circuitry, along with 256KB of on-chip data storage. The prototype processor will be clocked at 1.5GHz, Toshiba said, and consume 10-20W - depending on load, presumably.
Like the PS3, the SpursEngine is designed to connect to Rambus' high-speed XDR memory, and can sit on a x1, x2 or x4 PCI Express 1.1 graphics card.
The chip will be demo'd in a notebook computer - Toshiba's big on laptops, don't forget - which it said will be grabbing attendees faces, rendering them as computer animations and applying hair styles and make-up in real-time.
Not quite, Metal Gear Solid, Gears of War or Crysis, we'll admit, but you can see that Toshiba has these kinds of applications in mind too. Whether the SpursEngine operates with Microsoft's PC gaming foundation software, DirectX 10, remains to be seen.
Sponsored: Becoming a Pragmatic Security Leader