OLPC to offer consumers $400 two-laptop bundle
One for you, one for them
The group behind the third-world oriented $100 (ish) laptop will also offer consumers in developed countries the chance to buy its machine later this year.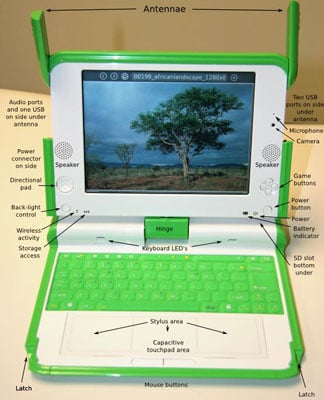 OLPC's XO laptop
Dubbed Give 1 Get 1, the programme will run from 12 November and allow consumers to purchase two of the OLPC organisation's XO laptops, one for themselves and one that will be delivered to a child in a developing nation. The pair cost $400 (£200/€225), and the scheme will run for just two weeks.
The sales strategy is a direct contradiction to a statement made in January this year, when a representative from OLPC claimed that "contrary to previously published reports, OLPC has no plans to make the XO laptops available for sale to the general public".
The XO laptop is based around an AMD Geode LX-700 CPU. It also has a 7.5in LCD display, two USB ports, an SD memory card slot and Wi-Fi, and is encased in a "hard" case with built-in carry handle.
Selling the XO laptop to consumers in the developed world could be a smart move for the OLPC project. The de facto donations of wealthy westerners could help lower the costs of machines destined for poorer countries, and will surely help spread the word about the project.
And it'll also help the rest of use secure a cheapo laptop for the kids, just in time for Christmas, all in a good cause.
Sponsored: Your Guide to Becoming Truly Data-Driven with Unrivalled Data Analytics Performance