Sony expands CompactFlash range
Snap more, store more
Sony has revealed the technical specs of its latest CompactFlash card. The 300x card will be available in a range of storage capacities, has a top data write speed of 45MBps and is targeted at digital SLR camera users.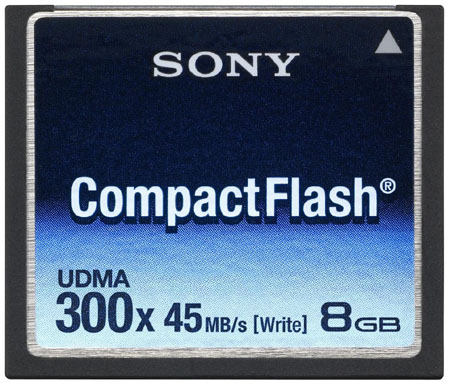 Sony's 300x CF: storage for SLRs
As far as existing CompactFlash card capacities go, the 300x card range is pretty standard, offering happy-snappers the choice of a 2, 4 or 8GB. Sony claimed the largest capacity card is able to store about 2000 12-megapixel JPEG images.
The 300x expands Sony's current CompactFlash range to three cards, with the entry level 66x and mid-range 133x both already available in maximum capacities of 4GB respectively. The 133x is able to read and write data at 20MBps.
Sony said the 300x card is also compatible with Ultra Direct Memory Access (UDMA), allowing UDMA-enabled SLR cameras to both record more frames per second when set to continuous shooting mode and to transfer them faster onto a PC or laptop than previous cards could - provided your memory card reader supports the higher speed, of course.
The 300x card will be branded to match Sony's Alpha SLR range. So, it's no coincidence that the manufacturer launched the HDMI-enabled 12.2-megapixel Alpha 700 D-SLR camera earlier this month.
An intention to move into the CompactFlash market was originally signalled by Sony back in January. However, its 300x card will be competing in a crowded market. Lexar has already produced a range of CompactFlash cards with a top capacity of 8GB and write speed of 45MBps.
The Sony 300x card will be available next month, but a price has not yet been announced.