Motorola launches home phone range
Motorola has created a range of digital cordless home telephones. The Motolivn range can be positioned anywhere in your house and includes a special power-saving mode for environmentally-aware chatterboxes.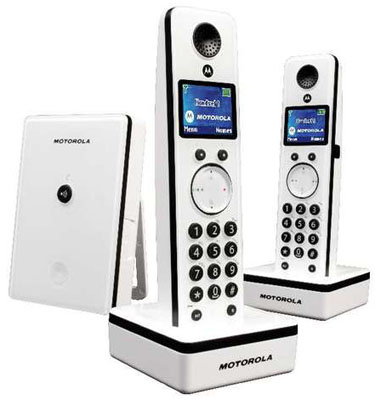 Motorola's Motolivn D8: crdlss
The D7 and D8 use location-free bases, which enables them to connect wirelessly to your home telephone connection via a router-type device that's physically connected to your telephone socket. Motorola claims the benefit is that you can place handset basestations anywhere around the home, without the restriction of having to place them within cable distance of a phone socket. However, each handset's basestation does have to be connected to a power socket.
Apparently, both handsets are also "automatically adjusted" to optimise power output, according to the distance from their basestation, the idea being they deliver a better battery life the closer they are to their basestation. So if you want to keep your bills down then you may well be limited by location after all.
Up to five additional handsets can be connected together and answerphone models are also available.
The differences between the two handsets are minimal. The D7 is available in silver only and features a blue-backlit two-line mono display, while the D8 comes in either black and silver or white and black, with a 3.6cm colour display.
If you're looking to save a few bucks on your call costs though, Motorola has also launched the D8 with Skype compatibility. It allows users to set their phone to Skype or landline mode as a default setting, or to switch between the two while a call is taking place.
The handsets will be available next month, although a price is yet to be confirmed.