NEC ships HydraStor grid storage platform
Consolidated backup and archiving not a Herculean effort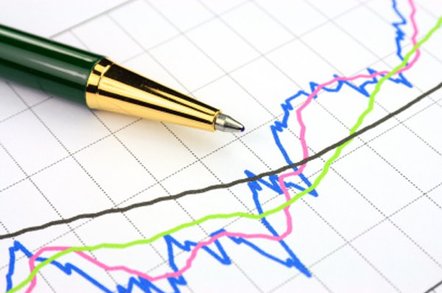 NEC of America is rolling out the first product based on its HYDRAstor grid storage platform this week, offering a high-tier system for businesses looking to cram backup and archive data into a single system.
With the HYDRAstor HS8, the company aims to contend as a heavyweight in the external storage marketplace. NEC is outing the platform as a "game-changing" system for months now, claiming it will eliminate the need for downtime, provides easier management, "near limitless" scalability and simple data migration.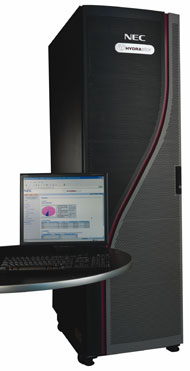 HYDRAstor HS8 is made up of nodes running on NEC's DynamicStor management software, which sorts out data reduction, self-management, and improved data resiliency on the system.
Karen Dutch, NEC's GM of storage, explains that rather than using a single control node for management, HS8 distributes everything across all nodes, eliminating a bottleneck. This also allows nodes to be swapped out non-disruptively. Data can also be moved to other nodes without affecting application availability or performance.
The appliance uses accelerator nodes and storage nodes to enable independent scaling of its performance and capacity. Adding accelerator nodes can increase the appliance's performance from 200MB/s throughput to 14,000MB/s (while using data de-duplication and compression). Storage nodes can increase capacity from 150TB to a logical 10.3PB pool, using 500GB or 750GB SATA disk drives.
Data protection is attended through support of NEC's Distributed Resilient Data (DRD) process. It has a default setting of Parity-3 protection, but this is dynamically alterable to as many parity chunks required. NEC claims DRD offers 300 per cent more resiliency than RAID 5 with a similar capacity, and won't suffer performance degradation during a rebuild operation.
Management tools available for the HS8 include data compression, data de-duplication, encryption, migration and snapshot-based continuous data protection. NEC said it will add replication in early 2008.
Data de-duplication on HS8 uses the company's DataRedux technology, which NEC claims can eliminate redundant data across and within incoming data streams to reduce storage requirements by up to 95 per cent.
NEC will start shipping HYDRAstor HS8 with limited availability on September 26. The appliance will be generally available on October 26.
Three pre-configured models will be available; the HS8-1010, with two accelerator nodes and four storage nodes at 200MB/s throughput and 150TBs of capacity; the HS8-1020 with with 12 accelerator nodes and 24 storage nodes at 1200MB/s throughput and 900TBs capacity; and the HS8-1080 with 48 accelerator nodes and 96 storage nodes at 4800MB/s throughput and 3.6PBs of capacity. The entry-level HS8-1010 begins at a list price of $165,000. ®