Feeling the heat at Neptune's south pole
Long, hot, summer at -190°C
The south pole isn't where you'd ordinarily think of going for your summer holidays, but that is because you are from Earth, not Neptune.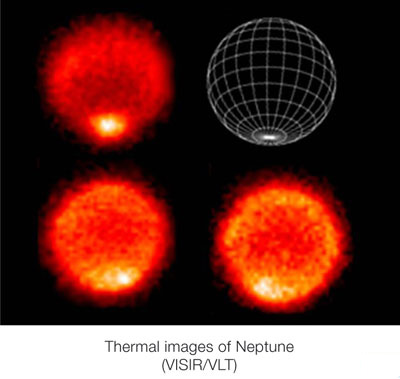 Thermal images of Neptune's hot south pole.
Neptunians looking to catch a little heat are all heading south, where according to new images from the European Southern Observatory, temperatures are anything up to 10 degrees higher than anywhere else on the planet.
This makes sense when you consider that Neptune's southern hemisphere is currently basking in sunshine, as it has been for the last 40 years. A Neptunian year lasts roughly 165 Earth years, so summer is distinctly longer.
Holidaymakers venturing to Neptune's south pole will also be able to bask in balmy breezes filled with gaseous methane. Elsewhere on the planet the organic molecule is frozen out.
Glenn Orton, lead author of the paper reporting the results. "This solves a long-standing problem of identifying the source of Neptune's high stratospheric methane abundances."
Of course, the situation will change come winter time (about 80 years from now if you're wanting to get in touch with your travel agent). The hotspot will move up to the northern hemisphere and the methane will leak out of the stratosphere there instead.
The new observations have also revealed odd "mid-latitude" hotspots. The researchers suggest these are caused by upwellings of hot gas from the interior of the planet. ®