Elgato EyeTV 250 Plus TV tuner with MPEG 2 encoder
The ideal DVR kit for low-horsepower Macs?
The 250 Plus has another feature absent from the Hybrid: a gaming mode. Essentially, it switches off the unit's MPEG encoding hardware and the EyeTV software's disk cacheing routines in order to ensure what you see on the screen is as close to the feed as possible - usually there's a short 1-1.5s lag. It's called Game Mode because it's intended for folk who want to connect a games console to a Mac via the tuner.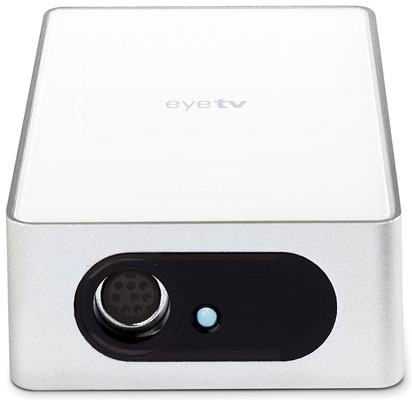 Elgato's EyeTV 250 Plus: Mac-friendly looks
Seems a crazy notion to us, but if you're someone who uses your computer as your TV, it allows you to hook up a console to it too and playing knowing your gaming moves, made in response to what you're seeing on the screen, isn't a second or so out of sync with the game state inside the console.
We didn't have a console to hand try it, but we could see with a feed from a set-top box that there was less of a lag between what was appearing on our Mac's screen and our TV.
So is the 250 Plus better than the Hybrid? If you already have a Hybrid and you're happy with it, there's no need at all to upgrade. If you have a modern Mac and you occasionally want to digitise analogue content, the Hybrid is €70/£49 pounds cheaper but will give you exactly the same TV and DVR functionality. And it doesn't require its own power socket.
The 250 Plus' video cables fit onto the unit better than the Hybrid's equivalents do, but since we've never had a problem with the Hybrid, does that matter? Again, to occasional users probably not, but if you're going to be using one of these products day in, day out, it's worth considering the pricier product because it's probably more robust.
Ditto, if you have an older Mac, but as we've seen, make sure it has a USB 2.0 port.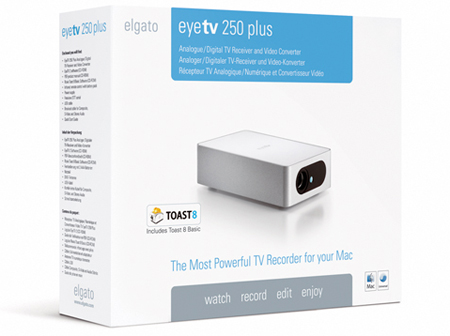 Elgato's EyeTV 250 Plus: boxed up with Toast 8 Basic
The 250 Plus comes with the obligatory micro-aerial, and as we've said before, don't expect a fantastic Freeview signal from one of these. If you don't have a feed from the roof- or loft-mounted aerial, use a good set-top antenna with a signal booster.
Finally, a word on hardware encoding. The EyeTV 250 Plus will digitise an analogue signal, but it won't help out when it comes to converting digital formats, say taking an MPEG 2 file and coding it for use on an iPod, PSP or AppleTV. For that task, you'll still need a gadget like Elgato's Turbo.264 - reviewed here.
Verdict
Elgato's EyeTV 250 Plus is a solid but niche product. Owners of Intel-based Macs will find the cheaper EyeTV Hybrid USB stick more handy, particularly if they only have occasional analogue recordings to make - both products are identical for viewing digital TV. However, if you own a pre-Intel Mac and you want to use it for watching analogue TV, the 250 Plus is a good place to start.

Elgato EyeTV 250 Plus TV tuner with MPEG 2 encoder
If your Mac doesn't meet the requirements of the cheaper EyeTV Hybrid tuner, the 250 Plus is the DVR device for you...
Price:
€199.95/$199.95 (£137) RRP