OQO touts UMPC with solid state drive
A laptop for your pocket
Manufacturer OQO today unveiled its latest Ultra Mobile PC (UMPC) incarnation at a London press event. It claims the palm-sized Model e2 boasts the smallest form factor currently available and it ships with Windows Vista, alongside an optional solid state drive (SSD).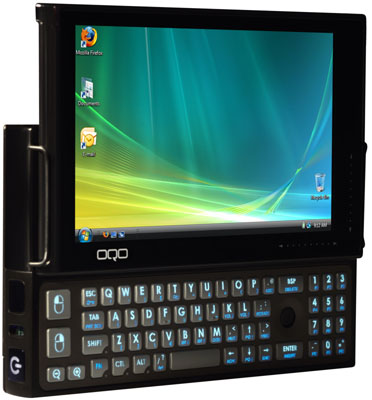 OQO's Model e2: small but powerful
The e2 is broken up into four models, with the main difference being either a 1.5GHz or 1.6GHz VIA C7-M CPU. Each has 1GB DDR2 memory and OQO claims this is sufficient for Vista. The basic model has a 60GB 1.8in HDD, while the two middle range models have either an 80GB or 120GB capacity. A solid state drive comes as standard with the top-end model, but buyers might feel a little short changed by the 32GB capacity.
We had a play around with the UMPC at the event and found it easy enough to operate. The thumb-based navigation reminded us of the Sidekick handset, and the e2 adds in a trackstick navigation ball on the right-hand side and accompanying left and right mouse keys on the other side. Only one USB port is included though. All four models have integrated Wi-Fi 802.11a/b/g compatibility, though not with the latest n standard, in addition to Bluetooth and A2DP wireless stereo support for streaming of music to, say, a wireless headset.
As the e2 is a UMPC, some obvious laptop features have been stripped out – such as a CD/DVD drive. One is available with a separate docking station, but the lack of a drive on the device itself could prove a pain. This is also a shame because the 5in LCD display, which operates at a resolution of up to 800 x 480, is bright and sharp, and would be good to watch a film on while travelling.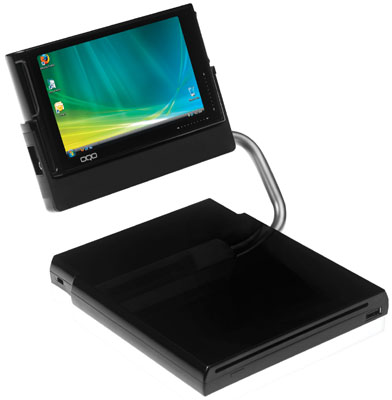 OQO's Model e2: docking station optional
Its lithium-ion polymer battery life is good for up to three hours' continuous usage. OQO claimed that the life can be boosted by around ten per cent by opting for the SSD option, which also gives a 50 per cent faster data read speed than the standard HDD.
The device's HDD drop detect function is a nice feature, which OQO claims parks the drive head once it senses a potential drop, to guard against data loss.
The model e2 is available now from Expansys, with prices ranging between £1150 (€1350/$2300) for the 1.5GHz 60GB HDD model and £1850 (€2000/£3900) for the 1.6GHz 32GB SSD option.