Aussie politicos in a froth over naval boob jobs
Storm, B-cup ... you get the picture
Australian politicians have criticised a decision by armed forces medical authorities to pay for two female sailors' breast enlargement operations.
The BBC reported yesterday that a plastic surgeon in Australia said he had carried out two such procedures for a total cost of around £8,500. Just to put this in perspective, that's about 0.01 per cent of what Australia will pay for a single one of its controversial new Super Hornet fighters.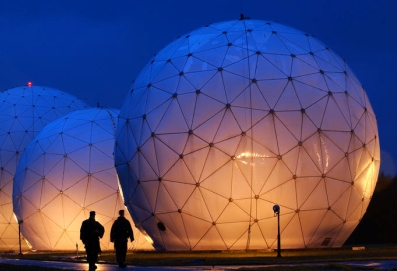 A gratuitous pic of some big round artificially inflated armed-forces assets.
Spokesman Brigadier Andrew Nikolic said that the Oz forces "consider the broader needs of our people, both physical and psychological."
"But that is a long way from saying that if someone doesn't like their appearance, Defence will fund things like breast augmentation as a matter of routine – that is just not correct."
This presumably means that the breast enlargements had been recommended by a psychiatrist as necessary to the female sailors' mental health. It's possible for British citizens – whether in the armed forces or not – to get similar treatment on the NHS, on similar grounds.
In fact, it would probably be difficult to find a Western armed forces organisation which hadn't funded some sort of mildly, er, titillating operation or procedure for these reasons. It would be a bold employer who opted to disregard the recommendation of a consultant doctor as to what medical treatment was appropriate, even if the treatment was a boob job.
Nonetheless, opposition Labor politicos still thought it was appropriate to demand full details.
"On the face of it, taxpayer-funded breast enhancement is a questionable practice," Labor defence spokesman Joel Fitzgibbon told the Beeb, though he didn't specify whether this was on aesthetic grounds or what.
Fitzgibbon felt that the move "smacks of a government out of touch".
We'll let you run with that one.®
Sponsored: Practical tips for Office 365 tenant-to-tenant migration