Want a free iPod Shuffle? Ask Tesco
Rent DVDs, get a Shuffle
Supermarket giant Tesco is offering new members of its online DVD rental service a free 1GB iPod Shuffle - but only until 10am, 16 September 2007.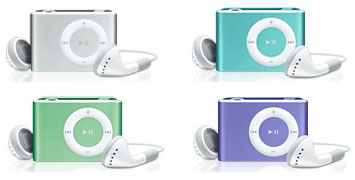 Apple's iPod Shuffle: Tesco is only offering the silver model
Mind you, it pays to read the small print. The player, which was unveiled by Apple last week, will only be sent out to music-hungry DVD fans if they subscribe to the rental service for at least three months.
The good news though is that you'll qualify for a free player with even the cheapest monthly package, which ships a single DVD at a time and is limited to two discs per month, for a monthly fee of £4.47. So a three-month subscription would cost you £13.41 and save you just under £36 on the player's standard retail price.
You'll have to wait about three months for the player to arrive, as it only ships once the third monthly payment has been made to Tesco. But you could think of it as a nifty way of grabbing yourself a cheaper iPod Shuffle on a monthly payment scheme, without the interest.