TwinMos Boom 1 2.1-channel iPod audio system
This could be the walrus
Review The iPod. Yes, it's arguably the most successful portable music player of all time. Yes, it's easy enough for your granny to use. And yes, everyone on the planet has one - or so it seems. But therein lies the inherent problem for any iPod accessory manufacturer...
Because the iPod is so popular and the add-on market already booming, any manufacturer trying to successfully launch yet another accessory for the recently expanded range of players will find it more difficult than getting into the London Underground at rush hour.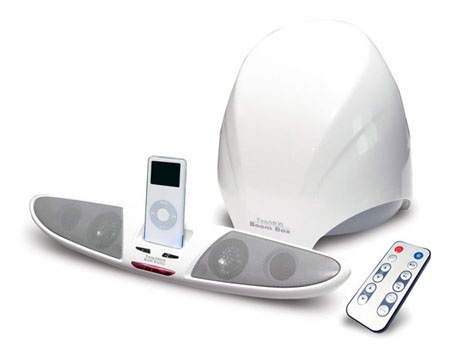 TwinMos' Boom 1: good enough for a party, but not for audio-buffs
TwinMos, manufacturer of the Boom 1 2.1 Audio System seems to have hit this problem head on and the result is a product that falls unassumingly in line with many, many other similar products. For example, the Boom 1 charges your iPod while in use or resting, it plays music through multiple speakers built into the docking station and it adds bass with an additional separate sub-woofer.
The Boom 1's first saving grace though is its ease of set-up. Once out of the box, we had the system up and working in just a few minutes, with the only connections required being one to hook the power supply into the rear of the docking station and the other to connect the dome-like sub-woofer, which measures 22.9 x 23.2cm, to the docking station, which measures 40.2 x 8.0 x 5.7cm.
Anyone not very confident with the world of connectors and cables will be pleased to hear that each one here is colour-coded and the corresponding jack on the back of the docking station is then labelled accordingly.
There's also a power-on/off button on the back of the docking station, so that you can switch it off with greater ease than fumbling behind sofas or table legs looking for the mains power switch.