Senate to call Boeing's 2009 raygun nuke-zap bluff?
We'll see your $0.5bn, and raise you a laser jumbo
Senators are planning to cut budgets for the space interceptor portion of the controversial US missile defence programme, according to reports. However, it appears that a complementary scheme to blast enemy ICBMs shortly after takeoff using a giant laser cannon mounted in a jumbo jet will be fully funded.
According to a report by Aviation Week & Space Technology, Senate subcommittee members who have been marking up the US defence spending package gave some hints earlier in the week.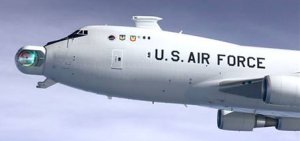 ABL laser plane. Really big projection screen not included.
It seems that the ground-based mid-course defence layer of the proposed American missile shield will not get the money requested by the Bush administration. In particular, the draft Senate bill will cut appropriations for planned interceptor and radar sites in Eastern Europe.
"The funds can be used better in other areas," according to Senator Daniel Inouye (Democrat, Hawaii).
The Pentagon would like to site a radar in Czechoslovakia** in order to track intercontinental ballistic warheads soaring through space towards the US. The missile-busting brass would also like to have interceptor rockets in Poland to knock the nukes out.
Ground-based defence rocket prototypes have at least carried out successful space intercepts against ballistic missile targets*, though critics suggest the tests thus far haven't been realistic. Using one rocket to hit another is very difficult at orbital speeds, but it's demonstrably achievable.
What hasn't yet been shown is the feasibility of making a missile explode by lighting it up with a raygun, let alone a raygun that has to fit in a plane. But Boeing, leaders of the Airborne Laser (ABL) programme, have their modified jumbo jet all ready to go. They also claim successful ground tests of the necessary laser machinery. The firm recently swore blind that if they got the full budget request, they'd blast a missile using ABL in 2009. (They said 2005 last time, in 2002.)
The idea of ABL is to produce a fleet of raygun jumbos which might patrol near, say, North Korea (just to pluck a name from the air). As the ICBMs lifted up through the atmosphere, the ABL planes would disintegrate them with high-powered lasers from up to 400km away. Being mostly pressurised tanks full of explosive rocket fuel, ICBM boosters are fairly prone to blowing up if even you leave them alone; so this is a bit more feasible than it sounds. That doesn't make an ABL simple to build, though.
It now appears that the Senators plan to call Boeing's bluff; AW&ST report that the subcommittee scribble on the draft bill approves the full ABL request of $549m in the next fiscal year. The aerospace colossus – which is partnered with most of the US arms industry on ABL – may soon have to make good on its promise, if the subcommittee plans are approved.
Full report from AW&ST here.®
*Usually obsolete Polaris jobs that have been lying about for the last couple of decades
**Whoops: Czech republic. No need for any more rude comments, cheers.
Sponsored: How to Process, Wrangle, Analyze and Visualize your Data with Three Complementary Tools