The trusting, the diligent and the downright paranoid
The notebook security poll numbers are in
Mobile Workshop The results of the mobile security connectivity poll earlier this week revealed some findings that were to be expected and others that were a bit of an eye opener.
When we asked you how comfortable you were with various notebook PC connectivity options, while some wouldn't entertain the concept at all, most, on balance, said they were fine provided appropriate measures such as anti-virus, firewalls and VPNs were in use.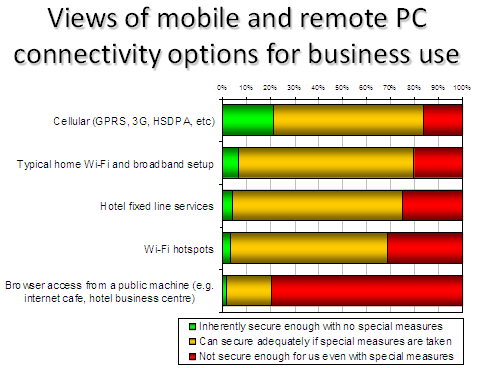 There is clearly a view that cellular connectivity is more secure than WiFi and other options, which reflects a perception that cellular connections are more difficult to 'sniff' deliberately, and are less prone to ad hoc attack and the kind of security 'accidents' which tend to occur when you put WiFi capability in the hands of unthinking or irresponsible users. Such issues were, in fact, cited when we asked about actual security breaches, which again showed a significant difference between WiFi and cellular: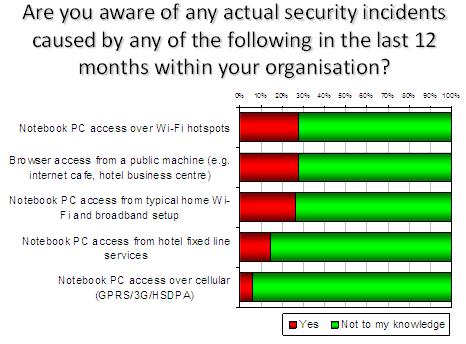 We should note that all of the above charts have been adjusted to exclude non-users in each category, so the percentages relate to those that actually have users connecting remotely in the ways listed. Having said this, there were still over 400 respondents giving opinions for each individual type of notebook access within an over sample of 576 readers.
Related to notebook PC connectivity is access to applications remotely through public machines such as those found in internet cafes and hotel business centres. As the above charts show, most are really not comfortable with the use of such facilities for business purposes, despite the availability of solutions in this area from a number of vendors. The rule of thumb seems to be that connecting to the corporate network from any machine that you don't have at least some level of control over is not to be endorsed. Incidents concerned with snooping, key-logging and inadvertent leaving of a footprint on the machine were reported, coupled with unexplained data and credential leakage that could be tracked back to public machine usage, even though the exact cause could not be determined.
The lessons that come through from the poll and the anecdotal feedback within it again confirm a general acceptance of it being possible to secure machines and connections at a technology level with the right kind of measures. We are also reminded, though, that the human factor is equally as important to get under control, something we have discussed previously in a research paper available from here.®