Opportunity rolls into Victoria
Checking out the rocks
The Mars Rover Opportunity has started its exploration of the Victoria crater. The images it is sending back suggest any previous (or current, but hidden) inhabitants of the red planet had a bit of a thing for crazy paving.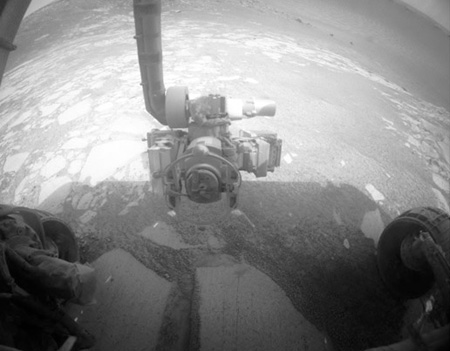 NASA says it has checked to make sure the rover can climb back out of the crater once it is done exploring, by running it backwards over the sandy ridge at the crater's rim. That test completed, the rover roved its way down the side of the crater. NASA says that it started with just two wheels in Victoria, but finished the day 20 metres further down the crater's inner slope.
"We want to maintain a safe egress route out of the crater for Opportunity, and by completing the back-up drive over the sand ripple at the rim, we have confirmed that we have one," said John Callas, Mars rover project manager at NASA's Jet Propulsion Laboratory.
Mission managers have been chomping at the bit to get into Victoria because of the crazy-paving-esque rock formations. The crater has what NASA refers to as "a taller stack" of rock layers than anywhere else near Opportunity. It offers a glimpse into a wide span of Martian history.
Initially Opportunity is being dispatched to examine an area of light toned rock that could, scientists hope, preserve evidence of interaction between the Martian atmosphere and surface from millions of years past.
The rovers, which were only supposed to roam the Martian surface for three months, have now completed 44 months on the surface of the red planet. ®