Retail giants to crack whip over digital dawdlers
Dropping analogue kit early
Consumers won't have much time left to buy an analogue TV set if The Digital Switchover Supply Chain Group (DSSCG) gets its way. The group, backed by the likes of DSGi, Comet, Sony and Panasonic, said it plans to phase out the manufacture and sale of analogue equipment long before the UK's digital switchover is complete.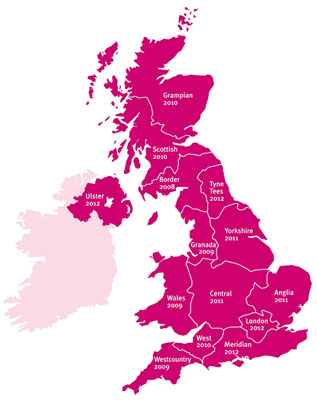 Analogue switch off: When will your region lose the signal?
By the end of this year, the DSSCG intends to accelerate the conversion of all TV product lines over to digital and then move to an all-digital product line in the 12 months before the analogue switch off in each region.
For example, consumers in the West Country will see analogue broadcasts stopped in 2009. So DSSCG members will not sell analogue kit in 2008, leaving consumers after an analogue telly until the end of this year to buy one - from DSSCG member companies, at least.
Although the Go Digital flag has already been flying over the UK's high streets for some time, the DSSCG plans to cement the message further by labelling all digital equipment with the digital tick mark to help consumers recognise which equipment will still work after, or even before, the analogue switch off. The group also plans to phase out the sale of non-digital recorders, including DVD recorders.
The announcement clearly places pressure on consumers to replace their analogue TV equipment as soon as possible, and may even go as far as limiting consumer choice by forcing us to go digital ahead of time. Tough luck if you're in an area where Freeview reception isn't as good as it should be. The analogue signal won't be switched off in London until 2012, or until 2011 in the Yorkshire and Anglia regions, respectively.
However, the push could also be seen with a Scout's 'be prepared' eyes, as it will certainly help make sure Londoners aren't suddenly left without Eastenders from 1 January 2012.
Is this just an attempt to force consumers to go digital unnecessarily early or will it help prepare everyone for the switch off? What's your opinion?