Sony to roll out four Blu-ray recorders
Strategy to cement the format's popularity
The Sony Blu-ray Disc wagon shows no signs of slowing, with the company unveiling four forthcoming recorders based on the format. The top-of-the-range model incorporates a massive 500GB hard drive, enough for about 160 hours of HD content, while the whole range also provides 1080p 'full HD' resolution.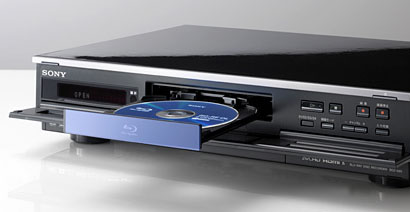 Sony's BDZ-X90: all-singing, all-dancing high-end model
Two models, the BDZ-L70 and BDZ-T70, will both feature 320GB hard drives, while the low-end BDZ-T50 will have the smallest capacity drive, 250GB. These three and the high-end BDZ-X90 can all read from and write to dual-layer Blu-ray Discs. It's also been rumoured that the top models have gold-plated HDMI connectors.
Each model operates at the cinema-style 24p 24 frames per second rate, while the X90 also operates at a higher 60p. The X90 also includes Deep Color technology, which allows for billions, rather than millions, of colours to be displayed on screen, and which will give viewers deeper blacks, Sony claimed.
All four models are compatible with DVD±R/RW formats and others. The top three models each have dual digital tuners and an analogue tuner, allowing them to record two TV channels simultaneously. The T50 has only a single, digital tuner.
The L70 model supports the Advanced Video Codec High Definition (AVCHD) format, introduced by both Sony and Panasonic to enable HD recording on camcorders.
The bad news is that all four recorders will initially only be available in Japan, from early November, with the BDZ-T50 retailing for ¥140,000 (£602/€632/$1200), the BDZ-T70 for ¥160,000 (£688/€704/$1400), the BDZ-L70 for ¥180,000 (£774/€799/$1586) and the BDZ-X90 for ¥200,000 (£860/€904/$1844).