Navman queues up flagship satnav range
Relatively little noise has been made by Navman since it was acquired by Mitac in February, but it appears the company hasn't been resting on its expanded assets. Today, it introduced a four-model flagship S series of satnavs.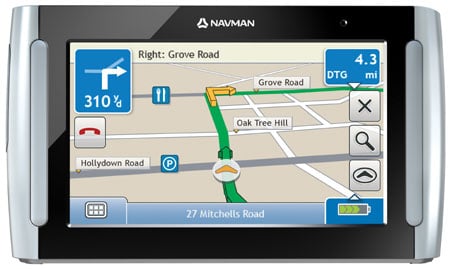 Navman's S90i: sports a simplified UI
The S series, which builds upon the manufacturer's existing F and N line-ups, comprises the top-of-the-range S90i and the lower spec S70, S50 and S30. Navman claims the whole range features 500 enhancements from previous models, but many of them are simply features that the likes of TomTom and Garmin already offer in their satnavs, such as Bluetooth handsfree calling, anti-glare screens and a speed limit indicator.
The top three models sport good-size 4.3in touchscreen displays and a pin-code lock to keep thieves out after they've nicked it, while the S30 has a 3.5in touch screen, but doesn't include the security function. All four models do have what Navman claimed where the "latest" European maps pre-installed and an SOS button. This provides users with a list of emergency services in their immediate vicinity.


Navman's S90i: the two-megapixel camera is a bonus
An auto-dimming screen also... well... dims the display's brightness when day turns to night, which sounds a little like an air stewardess dimming a plane's cabin lights during a night-time landing.
A built-in real-time traffic receiver is the main advantage of the S90i, although the idea is nothing new. Nor is a text-to-speech feature that speaks next turn road names. The model also features a two-megapixel camera on its reverse, which can be used for snapping pictures of motorway service stations, the better to find them again in future, courtesy of the device's NaxPix software.
This software is also included on the S70 and S50 models, but they don't feature a camera, meaning users would have to move pictures onto them via the SD memory card that's available on all four models.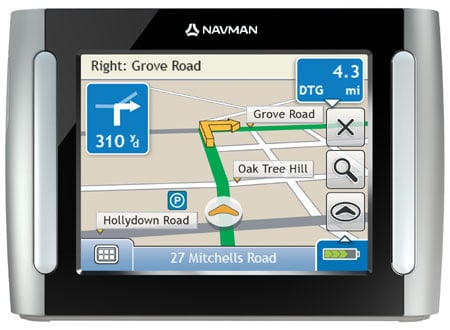 Navman's S30: a smaller display
There's no mention of compatibility with Google Earth on any S series models though, something which Garmin has already introduced with its recently launched Nuvi 700 range.
The S70, S50 and S30 models will be available by the end of September for around £200 (€230/$400), £180 (€210/$380) and £150 (€180/$300) respectively. The S90i won't find its way into shops until October, when it will cost £300 (€330/$600).