Motorola transmits dual Walkie Talkie range
Come in Whisky, err, Vodka, Baileys, foxtrot, over
Mobile phones just don't cut it in some situations, such as police stakeouts and mountaineering expeditions, owing to dodgy reception levels, connection times and number punching. So Motorola has unveiled two stylish walkie-talkies that offer a range of handy features for Alpha Bravo Charlies everywhere.


Motorola's TLKR T3: 20 hours of talk time
The TLKR T3 and T5 both provide eight channels over which to natter, but the T5 also features 121 codes for privacy - so you really could pretend you're out on a police stakeout. The T3 does have a four hours more battery life than the 16-hour T5, but then the T5 trumps the T3 with its 6km range, while the T3 transmissions only stretch to 5km.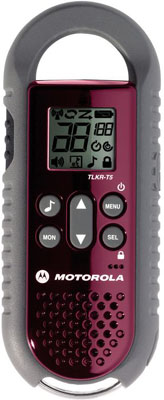 Motorola's T5: privacy codes, no problem
Each model has a simple LCD display, although the T5's is backlit. And the attachment clips on both models, well they're just plain sensible, especially when rock climbing.
The T5 offers the clear functionality advantage though, as it offers a twin-charger pod, auto-power off to save on battery life and a selection of five call-tones - so you can select which call-tone plays when Whisky Charlie gets in contact. If you are otherwise engaged, the T5 can also be voice activated.
Both models ship next month as two-handset packs. Motorola has yet to communicate how much they'll cost. Over and out.