DLO HomeDock Music Remote wireless iPod dock
The answer to the iPod owner's hi-fi dreams?
Review On paper, Digital Lifestyle Outfitters' HomeDock Music Remote is an iPod owner's dreams come true. It allows you to control your iPod's playback through your hi-fi via a remote control. Sounds good, and DLO got it 95 per cent right. But that last five per cent makes all the difference and will have you tearing your hair out and stamping around the house shouting: "Oh Lord, why vex your people thus?"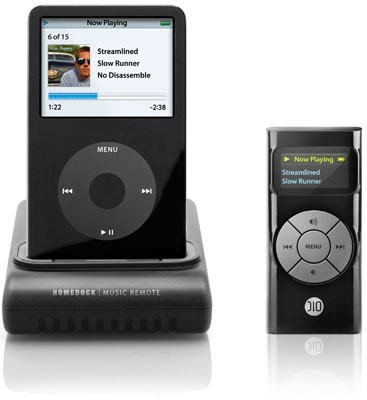 DLO's HomeDock Music Remote: see what's playing... using your remote
Out of its iPod-esque packaging the HomeDock Music Remote consists of a dock in which sits your iPod and the small DLO remote. You also get a set of iPod universal dock adaptors, a power cable, a minijack-to-RCA audio cable to link the base station to your hi-fi or home cinema system, and a 24-page manual. The dock also includes a mini-USB port so you can sync your iPod to iTunes while in situ.
Set up is straightforward. Connect up the cables, charge up the DLO remote, place your iPod in the cradle and you're done. Your iPod will charge while in the cradle, but don't leave it in when you switch the cradle off at the mains - I did and my iPod stayed 'on' and promptly drained its battery overnight.
Control of the system lies with the iPod Nano-sized radio-frequency remote. A bright, if tiny, 1.5 x 2.5cm, four-line by 17-character LED screen lets you know what's being played, along with the battery status. Access to the remote's various remote functions is via five rubber keys, a central menu key with four buttons around it. What these keys do depends on what menu you are in, but all in all it works reasonably intuitively and usually swiftly. Apart from track selection and volume control, the remote also allows access to the iPod's EQ and shuffle settings, and lets you set up a jukebox.
Though the DLO remote won't allow you to browse videos on your iPod it will allow you to stop, start, pause and fast forward or rewind a video that is playing. Movement up and down the menus is pretty rapid, holding down the 'up' or 'down' button giving you a sort of turbo scroll.