DVD Forum gives three-layer, 51GB HD DVD the thumbs up
Format's fans must buy new players?
The DVD Forum, the organisation that oversees DVD and HD DVD technology, has approved Toshiba's proposed triple-layer, 51GB disc structure. The move paves the way to exceed - for now, at least - the 50GB capacity of a two-layer Blu-ray Disc.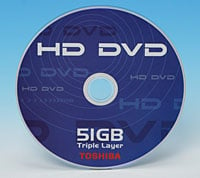 Toshiba's 51GB HD DVD
Toshiba revealed the three-layer disc back in January 2007 before formally submitting the medium to the Forum in April.
Standard single- and dual-layer HD DVDs offer 15GB and 30GB of storage, respectively. Adding a third layer would have taken the overall capacity to 45GB, still less than a 50GB BD, so Toshiba's boffins worked to get an extra 2GB onto each layer of the three-tier HD DVD.
What's unclear at this stage is whether today's HD DVD drives and players will be able to read the new disc. However, with such a small number of HD DVD devices out there - relative to DVD players - only a limited number of early adopters are likely to be affected, and these are the kind of folk who are generally happy to upgrade in any case.
The Forum is also investigating a further format, one that fits a standard, single-layer DVD to the back of a two-layer HD DVD in order to allow standard definition content to be included for ordinary DVD players, effectively future-proofing the disc. The format is expected to be approved before the end of the year.
Sponsored: Detecting cyber attacks as a small to medium business