Fujitsu unveils palm-reading security mouse
Vein pattern scanned for authentication
Fujitsu has introduced what it claims is the world's first mouse capable of scanning the pattern of veins in the user's hand. The reason? To use the pattern to authenticate the user for access to the host computer.
Fujitsu's PalmSecure system is not itself new - the company has been equipping ATMs and other systems in Japan with the scanning system since 2004. The technique involves illuminating the hand with near-infrared rays, which show up the veins against the skin, and taking a picture. The deoxidised haemoglobin held in the red blood cells within the veins absorbs the rays, so the picture shows a white hand marked with a network of black veins.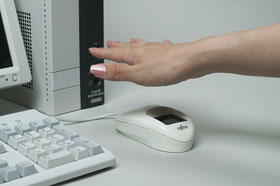 Fujitsu's vein-scanning mouse
Clever software then turns this photo into a digital pattern that can be compared against an archive of patterns stored in the computer.
Fujitsu maintains the system is highly secure, and requires the deoxidised haemoglobin to be flowing through the veins - so no lopping of hands to fool the authentication system, please.
And now the scanner's been built into a mouse. Fujitsu will be pitching the product at big business, so it's unlikely for now to make an appearance at your local computer store. But with the device ready to scan and authenticate as soon as the user pushes the mouse, it's an approach that's rather more user-friendly than swiping a fingerprint reader.