Get a passport, enjoy casual sex with foreigners
Home Office yoof campaign shocks Middle England
Middle England is none too pleased with a Home Office campaign aimed at "reminding 'holiday virgins' to apply for their passports in good time to avoid missing out on the fun of a first parent-free holiday".
The HO last month launched the initiative, with the Identity and Passport Service's Executive Director for Service Planning and Delivery, Bernard Herdan, explaining: "Of all potential holiday mishaps that could befall you, not getting to go away with your friends in the first place is perhaps the most disappointing.
"Due to changes being introduced to prevent identity theft, fraud and forgery, from this summer first-time adult passport customers are advised to allow six weeks for their passport to be processed. They may also be asked to attend a short face-to-face interview as part of new anti-fraud measures being introduced into the passport application process.
"We want to ensure that those who are going on their first unsupervised trip abroad don't get left behind because they didn't get their passport organised in time."
Fair enough, you might think. However, the HO decided to back its message with an ad campaign with a decidedly yoof flava: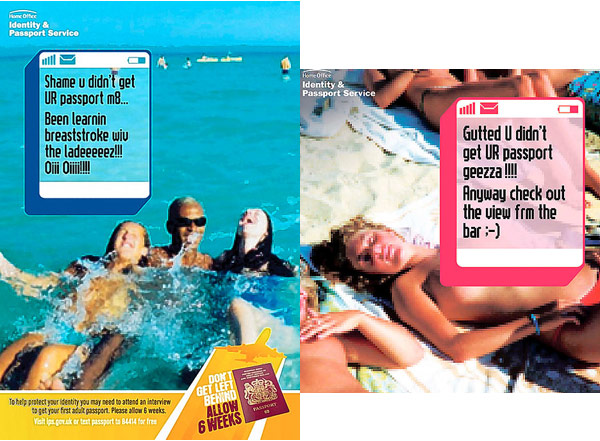 Well, it didn't take the Daily Mail long to start choking on its Coco-Pops when confronted with the "pornographic" advertising campaign featuring the above "sleazy images", which "appear to encourage sex acts with strangers - at a time when another ministry, the Department of Health, is spending millions of pounds trying to reduce Britain's high rate of unwanted pregnancies and sexually transmitted infections".
The offending publicity drive - "appearing in magazines such as Nuts, Zoo, Glamour, Heat and Sugar and in clubs, bars and discotheques and which is aimed at young people who are intending to visit resorts such as Ibiza, Faliraki, Magaluf and Lanzarote" - actually features four images, two of which the Mail deemed "far too graphic for a family newspaper".*
Tory MP Julian Brazier duly thundered: "They are nasty and a waste of money. It is amazing that the Home Office can find money for pornography while cutting back on budgets for worthwhile schemes such as prisoner rehabilitation and education."
Michaela Aston, of the charity Life, chipped in with: "Given the latest surge in abortion rates and the epidemic of sexually transmitted diseases in the UK, it is irresponsible of the Home Office to produce adverts aimed at young people which blatantly give the message that holidays are only about sex. These adverts will encourage even more risky sexual behaviour. They also seem at odds with the government's strategy to reduce teenage pregnancies."
The Advertising Standards Authority has apparently already received four complaints about the ads - the work of Rainey Kelly (warning: website may induce Flash overload) - including one which "accuses the Home Office of encouraging holidaymakers to take mobile phone photographs of sunbathers without their consent and show the pictures to friends".
A Home Office spokesman defended: "The campaign may be a bit racier than normal government advertising, but we've taken expert advice on how to get the message across to the 16 to 24 age group."
In case you're wondering to what extent the HO's porno poster shocker could contribute to unwanted teen pregnancies, STDs and general debauchery, its own figures note that just "three per cent of those surveyed lost their virginity on their first holiday abroad (five per cent of males and two per cent of of females)." No doubt next year's totals will, in the wake of the government's Bacchanalia drive, show a marked improvement on these disappointing stats. ®
Bootnote
*And for El Reg too, we should stress. Shocking, just shocking.