Wednesday's Palm launch not Centro, firm claims
Same design though?
The wraps come off Palm's latest Euro-centric smartphone on Wednesday, and while speculation has centred on the notion the device might be the company's upcoming Centro product, Palm has claimed it isn't.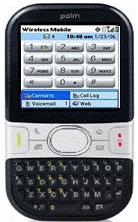 Palm's Gandolf/Otto: not branded Centro?
A posting on Palm's official blog stated explicitly the device due to be announced on 12 September is "not the Palm Centro smartphone".
Wednesday's device is expected to be a Windows Mobile 6 handset that will be initially exclusively allied to Vodafone's network, as with the case with the Treo 750. Codenamed 'Otto', it may not be branded Centro, but it is expected to be based on the 'Gandolf' design that has come to be associated with Centro.
Different codenames there may be for US and European models; CDMA and GSM versions; and Palm OS and Windows Mobile machines, even different brand names too. But they do appear, for now, unified by a common hardware design.