Orange to turn pink at Xmas to favour young women
Miss Understanding
Orange UK has shown off the pink LG Shine phone it plans to offer to UK consumers in the run up to Christmas - along with a rose-tinted Samsung F210, and salmon-hued W580i and W200i from Sony Ericsson.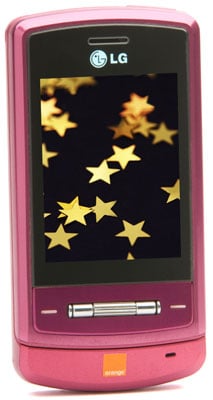 Orange's pink Shine: 85 per cent of young women want one
The mobile phone network said the pink Shine is "sure to appeal to the 85 per cent of young women out there who want a pink handset for Christmas" - a finding at odds with research published today that most women don't want pink gadgets, finding them "patronising and offensive".


Orange's purple U600: year's hottest colour. Apparently
In response, Orange quoted its own research, which it said showed the overwhelming majority of "young females" do indeed want a pink phone.
In addition to the pink handsets, Orange also unveiled a decidedly more seasonal bright red Sony Ericsson W910i. It also showed off a version of Samsung's U600 slider kitted out in purple, presumably for the percentage of people identified by Orange customer research who want a handset with Imperial Roman pretensions this Christmas. Apparently, purple is 2007's "hottest colour".
Most of these handsets will be available with monthly airtime subscriptions and as part of pay-as-you-go packages. The W910i is available on subscription only, while the pink W200i will only be made available to PAYG customers.
Sponsored: How to Process, Wrangle, Analyze and Visualize your Data with Three Complementary Tools