Widescreen iPod Nano debuts... as described
Apple's widescreen iPod Nano debut today, almost entirely as expected: widescreen display, video capability and a range of new, more autumnal colours. But Apple did throw in a couple of surprises.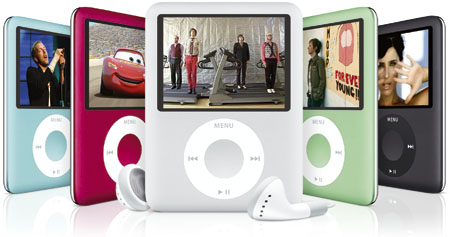 Apple's iPod Nano: now video friendly
That 2in, 320 x 240 display, for instance, has an LED backlight, like the screen on the iPod Classic. But it has a higher pixel density: 204dpi.
Compact like past Nanos, the new model sports the curved-front all-metal casing, giving it the appearance of a shrunken Classic - it's 7 x 5.2 x 0.7cm and weighs just 49g. Inside is a battery powering the player for 24 hours' music playback and five hours' video play. Songs and movies are stored in either 4GB or 8GB of Flash memory. In addition to video, the Nano will now play iPod games.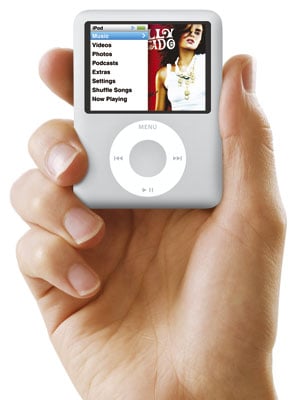 Apple's iPod Nano: updated, iTunes-like UI
Like the classic, the Nano features an updated iPod UI with iTunes' Cover Flow album selection system.
The colours available are silver, black, green, blue and red - the latter for the Product Red version - all, as expected. The same colours feature on a revamped iPod Shuffle line-up, which, like the new Nano, retains the previous version's capacity, in this case 1GB.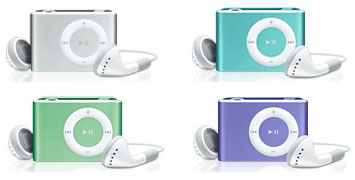 Apple's iPod Shuffle: new colours
However, this time there's a Product Red version of the Shuffle, with a percentage of the proceeds going to the Bono-backed AIDS-awareness charity. All the Shuffles have a 12-hour music playback rating.
The 4GB Nano is only available in silver, and retails for $149. Apple's offering the $199 8GB version in the full array of colours. All of these models are available now. So is the $79 Shuffle.