LG J10HD home cinema system
Does this Chocolate-inspired set taste sweet or sour?
Review The one-box home cinema system business reached saturation point some time ago, particularly at the cheaper end of the market. So companies who, like LG, target the mainstream have to work pretty hard to make their products stand out. LG has certainly put in some effort into the J10HD.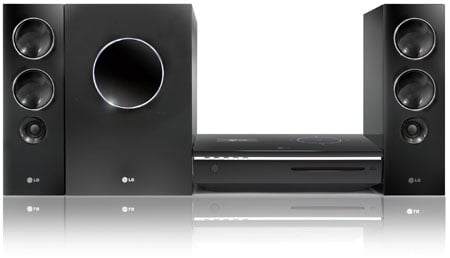 LG's J10HD: Chocolate-styled
For starters, this 2.1-channel, 300W total power set is styled on the company's popular Chocolate mobile phone. For the tecnhology buffs, there's a hard drive, touch-sensitive controls and a good set of connectivity options. So is the J10HD any good? Well, yes, but not for the reasons that LG might have intended.
Our initial impressions of the set were good. It's very easy to set up and feels more solid than we had anticipated. It gets the basics - like having enough speaker cable to get the speakers a decent distance apart - right, and that's so important. Problems encountered when the kit's being put in place for the first time are often never put right for the whole life of the machine, leaving you feeling you've been sold a pup.
We also liked the way the system is configured. The way all the power comes from the active sub-woofer, and the rugged nature of the cables and connectors, are all very reminiscent of the Bose approach - which is a big clue as to the kind of consumer LG is after.
The J10HD's dark coat and "ice white" lighting highlights aren't going to fit into everyone's home - think modern, minimalist flat, rather than barn conversion - but then it's not meant to. There's a little bit of a 1980s feel to its look, but that's not necessarily a bad thing. In the right context, the system looks good. There are also some nice touches, such as being able to dim the light coming from the displays.