Iogear touts anti-bacterial mouse
Clean up your desktop
Iogear is gearing up for the new school season and aiming to clean up the desktop in one foul swoop. It has created a wireless mouse that not only claims to deliver optimal, err, scrolling in all situations, but which is also coated with a specialist anti-bacterial coating.
The Phaser 3-in-1 mouse apparently has a titanium dioxide and silver nano-particle compound coating, which its manufacturer claims kills bacteria enzymes and proteins on the device's surface, so that users can be assured of a 'cleaner' mouse.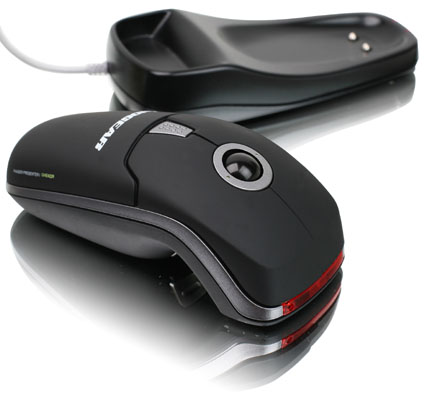 The Iogear Phaser mouse: will it stun users?
It also incorporates a sort of thumb-operated tracker ball into its surface that allows users to pick the mouse up and use it as a crude remote control, for example during presentations. The mouse is compatible with both PCs and Macs, is plug n' play compatible and works via USB 1.1 or 2.0. It operates over a 27MHz radio frequency and can be separated from its USB receiver and cradle by a respectable distance of up to 30 feet.
It also has a sensitivity level of between 800-1600 dots per inch, which is much lower than the likes of Razer's Lachesis gaming mouse , but will do the job for business or school work. The Phaser 3-in-1 mouse is available now for around $60 (£30/€42).
Iogear has also developed a 4GB flash drive, dubbed The Wallet Drive, that, owing to its business card dimensions and 3mm thickness, is designed to be carted around at all times to provide storage as and when it's required.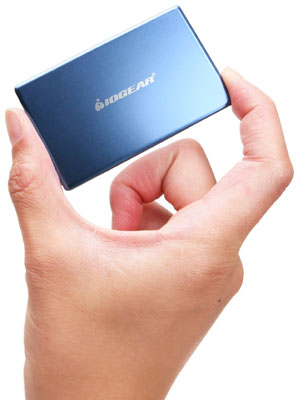 The Wallet Drive promises to provide handy storage
The drive also supports the established Windows ReadyBoost facility, which allows frequently accessed data and application code to be cached for quick access and to keep the hard drive powered down. It too works via USB 1.1 and 2.0, and is compatible with Sun OS – in addition to the usual suspects.
The Wallet Drive is also available now and ships for around $70 (£35/€47).