Pentagon puts $44m into handheld translators
Disperse at once or we fire <beep> Have a nice day
The US Navy is putting $44m-plus into "Phraselator®" Machine Based Language Translation tech, designed to overcome language barriers using "phrase recognition and generation" algorithms.
The company providing Phraselator® is Voxtec, a small business qualifier based in Maryland. It says its software is a departure from conventional machine voice-recognition and translation tech.
"Machine translation has been an active area of research since the 1950s," notes the company.
"This problem has proved to be more complex than initially imagined. After 50 years of aggressive research, universal translation is still in its infancy."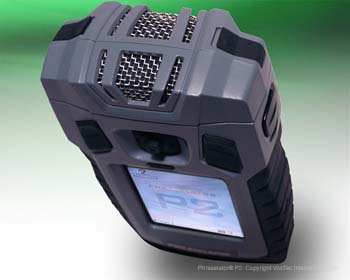 Phraselator: The collateral damage was regrettable.
The Voxtec developers say this is because it's too difficult to get computers to do "phoneme recognition and universal text translation." Rather, their kit is designed around the assumption that "most application areas ... have a specific lexicon that can effectively be communicated using a predefined, well-organized set of functional phrases."
That may or may not be the case; but it's possible to say it might be true to some degree when speaking of the US military and its dealings with foreign-language speakers. Voxtec also sells to American police departments.
Voxtec's flagship product is the Phraselator® P2, which will recognise useful spoken phrases in English ("up against the wall and spread 'em," "do ya feel lucky, punk?" "get dahn, it's gunna blow!" etc) and plays them back aloud in another language. It can also be operated using a touch screen or handheld buttons: but Voxtec say it really can recognise phrases:
"It doesn't have to "learn" your voice or speech patterns to understand you. It instantly understands anyone who speaks English, making it a force-multiplier. Its voice recognition is so powerful you could literally sing a phrase into it and still be understood."
This could suggests a new application, in translating famously hard-to-understand English opera lyrics. In fact that isn't mentioned, but Voxtec kit is being used by construction bosses employing non-English-speaking labour, and medics with similar customer bases. Not to mention Native Americans seeking to preserve their traditional languages.
Phraselator® was originally funded by - you guessed it - the Defence Advanced research Projects Agency (DARPA), the Pentagon kill-nerds who seldom eat their midday meal at their desks*. The phrase-speaker tech seems to have been one of their more achievable ideas, if this latest funding is anything to go by.®
*Because they're out to lunch