Daewoo demos 'Blu-ray Disc 2.0' player
Online and interactive
IFA 07 Daewoo has given the Blu-ray Disc next-gen optical disc format the thumbs up by showing off its first BD player, the slim, blue-hued DBP-1000.


Daewoo's DBP-1000: blue hue
The player supports the full BD specification, including the ability to access BD Live online content, to present picture-in-picture material and deliver BD's interactivity features - missing on many early BD players because the specification had yet to be completed.
Daewoo said its player can pump out pictures at up to 1080p via its HDMI port. It will upscale DVD and JPEG photos to full HD resolution, and supports DivX content too. The DBP-1000 can handle all the major recordable and rewriteable DVD and CD formats, along with BD-R and BD-RE discs.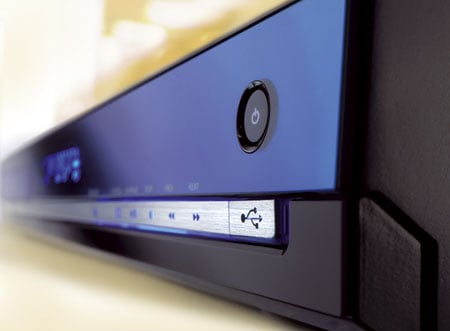 Daewoo's DBP-1000: BD Live, PiP enabled
In addition to HDMI, the DBP-1000 has a full array of s-, composite- and component-video, and digital and analogue sound outputs. There's even a USB port on the front for feeding the player with downloaded video content off Flash drives.
Daewoo didn't say when the DBP-1000 will go on sale, or what it's likely to cost.